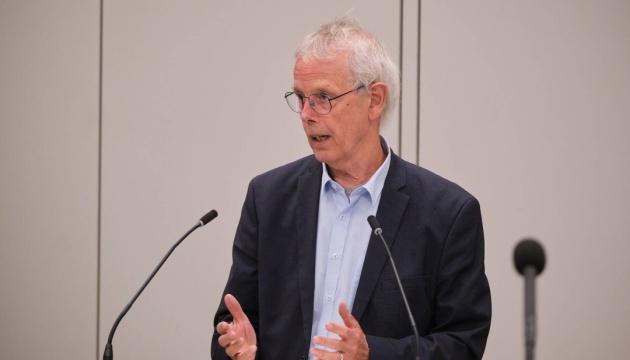 PACE President: Up to Ukraine to decide on election date
The President of the Parliamentary Assembly of the Council of Europe, Tiny Kox, admits that the Constitution of Ukraine does not allow holding elections amid martial law, and therefore believes that only the government, parliament, and people of Ukraine should decide on this matter.
Kox stated this during an online interview with Olga Aivazovska, head of the board at the OPORA Civic Network, Ukrinform reports referring to the PACE press service.
"It is clear that your Constitution does not allow to organize elections when martial law is applicable. That is the situation. So, at this moment, your country is not allowed to organize elections. That is clear, and I do not want to have any misunderstanding on that," said PACE President.
At the same time, he pointed out that "without the elections, democracy cannot properly function."
"What I want to say to the Government and the Parliament and the people of Ukraine – it is in your hands to decide whether and when elections will take place. As long as martial law is there and your Constitution is as it is, there will not be elections. But at a certain moment, there will be elections. And my advice is to start preparing for it as soon as possible," Kox said.
According to him, "everybody in Ukraine agrees that in the end, it's the people of Ukraine that decide on who is representing them in the Parliament and in the Government."
"As long as your Government and Parliament think that they should follow the Constitution, then no elections are possible. But of course, it's in the hand of your Government and your Parliament to perhaps amend the Constitution and make it possible that martial law is lifted during a certain moment of time, or, in another way, elections are allowed. What I want to say is, don't leave it in the hands of the Russian aggressor, whether or when you will have elections. Because it's clear, on the basis of the now existing laws in Ukraine, you cannot have elections. And it's also clear that only when the war ends, this martial law can then be lifted," said PACE president.
He also stressed that the Russians have to withdraw their troops from Ukraine. "[Y]es, the war should end as soon as possible, and it ends when Russia stops this illegal war of aggression against Ukraine and withdraws all its troops from Ukrainian territory. That is the thing that should be in our mind every day, and it's up to the Ukrainian people to decide if, when, and under which conditions they want to use their democracy," said Kox.
As reported earlier, the President of the Parliamentary Assembly of the Council of Europe, Tiny Kox, in an interview with the European Pravda outlet insisted on the need for Ukraine to hold parliamentary and presidential elections even amid martial law, adding that the Ukrainian authorities must figure out how to address this challenge.
Oleksiy Danilov, Secretary of the National and Security Defense Council, responded by emphasizing that there will be no elections in Ukraine until martial law is lifter as this would contradict Constitution.