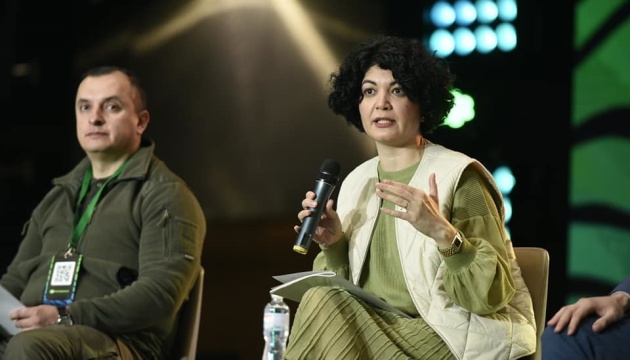 Military administration should be formed in Crimea after its de-occupation - Tasheva
A military administration should be formed on the Crimean peninsula after its de-occupation, followed by the creation of a civil-military administration and the holding of elections.
Tamila Tasheva, the Ukrainian president's permanent representative in the Autonomous Republic of Ukraine and Sevastopol, said this at the Crimea Wave forum.
"As part of a working group, we considered how state bodies will operate in Crimea after its de-occupation. I will say right away that our vision – of MPs, representatives of state bodies - that, of course, first a military administration should be created in Crimea. Then there should be a transition to a civil-military administration, followed by elections and a transition to civilian life," she said.
Tasheva added that the issue of forming a personnel reserve for Crimea is important in this context.
"It is very important for us that young people are involved. They should become reconstruction personnel who will go to the Crimean peninsula and will be rebuilding our Crimea," Tasheva said.
Tasheva stated earlier that the strategy for the de-occupation and reintegration of the temporarily occupied territory of Crimea and the city of Sevastopol would establish the key thesis that the end of the war will begin with the liberation of Crimea.
Oleksiy Danilov, the secretary of Ukraine's National Security and Defense Council, outlined 12 steps on the de-occupation of Crimea, among them the punishment of 'Gauleiters' and collaborators, the release of imprisoned Ukrainians and Crimean Tatars, the dismantling of the Crimean Bridge and the renaming of Sevastopol to Akhtiar.