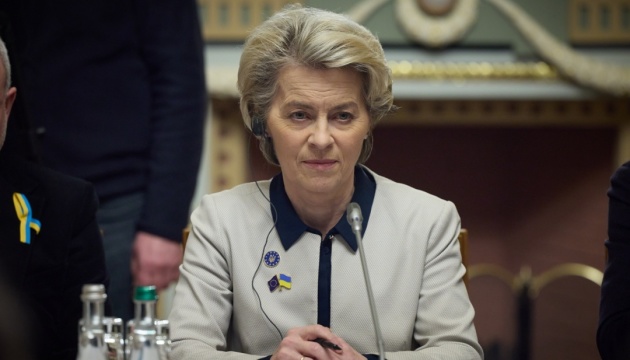 Ursula von der Leyen visits Kyiv on Europe Day
The European Commission welcomed Ukraine's statement on the celebration of Europe Day on May 9 and confirmed that European Commission President Ursula von der Leyen will visit Kyiv tomorrow.
Eric Mamer, a spokesman for the European Commission, said this at a briefing, according to an Ukrinform correspondent.
"Tomorrow, the President (of the European Commission - ed.) will be in Kyiv to meet with President Volodymyr Zelensky and reaffirm the EU's unwavering support for Ukraine. This visit will take place on Europe Day. In this context, we sincerely welcome President Zelensky's statement that May 9 will now be celebrated as Europe Day in Ukraine as well," the spokesman said.
He also noted that next Sunday, the EC President will deliver a speech in the German city of Aachen on the occasion of the awarding of the Charlemagne 2023 international prize to Volodymyr Zelensky and the people of Ukraine.
According to Mamer, von der Leyen's visit to Ukraine will focus on all dimensions of EU-Ukraine relations, particularly in the context of the EU enlargement process. At the same time, at this stage, the European Commission does not intend to provide details on the assessment of Ukraine's progress on this path, as the conclusions should be drawn by the EU Council.
"As you can see, for security reasons, we will be very discreet about the details of this visit," the spokesman said.
He confirmed that the European Commission has submitted the 11th package of EU sanctions against Russia for consideration by member states, which focuses on the implementation of restrictive measures taken against Russia, their effectiveness and prevention of their circumvention by exports from third countries.
As reported earlier, President Volodymyr Zelensky signed a decree according to which Ukraine will celebrate Europe Day on May 9.