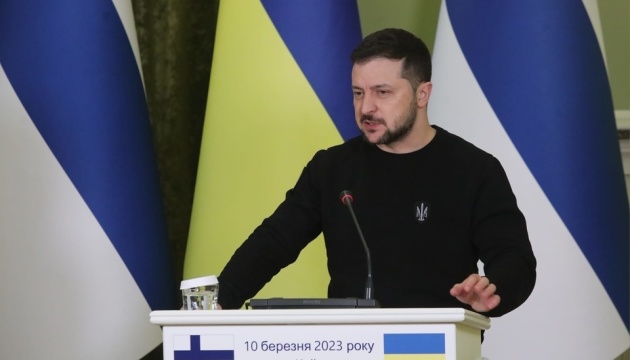 Zelensky decries allegations of Ukraine's involvement in Nord Stream blasts
President Volodymyr Zelensky denies any possible involvement on the part of Ukraine in the explosions that last fall damaged Russia's Nord Stream gas pipelines in the Baltic Sea, adding that he believes such reports might be circulated in order to provoke a slowdown in international aid to Ukrainians.
The president stated this during a joint press conference with Finnish Prime Minister Sanna Marin in Kyiv, an Ukrinform correspondent reports.
"As for the Nord Stream, we have nothing to do with it," Zelensky said.
Answering the question why and to whom it would be beneficial to spread claims of the alleged involvement of "pro-Ukrainian groups" in the incidents on the Nord Stream pipes, the president suggested that this may be done to slow down aid supplies to Ukraine.
"I think it is very dangerous that some independent media, which I have always had great respect for, are taking such steps. I think it's wrong as it only plays into the hands of the Russian Federation or there are also some business groups that are interested in having powerful sanctions not introduced because their businesses suffer, and these groups can operate including beyond Russia," Zelensky said.
He emphasized that Ukraine is currently fighting the enemy – Russia - but added that there is still a fight against "people who see nothing but money," whose businesses suffer due to the decrease in trade volumes with the terrorist state.
The head of state also said that there are certain "third countries" that allow the Russian Federation to circumvent sanctions.
"On the one hand, they support Ukraine, our sovereignty, they even send something to Ukraine, you know, as if helping conditionally, to put a checkmark. And on the other hand, they offer sanction evasion routes, earning tens of billions of dollars and have increased trade with the Russian Federation compared to the pre-war period," the president noted.
According to Zelensky, this applies to many states, even those that are part of the EU or NATO.
"I would pay attention to this and analyze, who might benefit, and for whom such disinformation is important. Ukraine definitely didn't do this. And this is the most important thing. And whatever someone came up with, some signs of whatever, even perhaps some false flag operation, this looks ridiculous, to be honest. We are interested in having weapons delivered, sanctions introduced, and our victory achieved," Zelensky emphasized.
As reported, at the end of September 2022, as a result of explosions on the Nord Stream and Nord Stream 2 pipelines off the coast of Bornholm Island in the Baltic Sea, the pipes were damaged in the exclusive economic zones of Denmark and Sweden.
The inquiry into the acts of sabotage, which is being run by the competent authorities of Sweden, Germany, and Denmark, is ongoing. Many governments tend to believe that it was Russia who stood behind the blasts. Russia has denied involvement.
On March 7, a number of foreign media, in particular German outlets and The New York Times, reported on the alleged involvement of "pro-Ukrainian groups."
In this regard, the German government stated that the investigation was still underway.