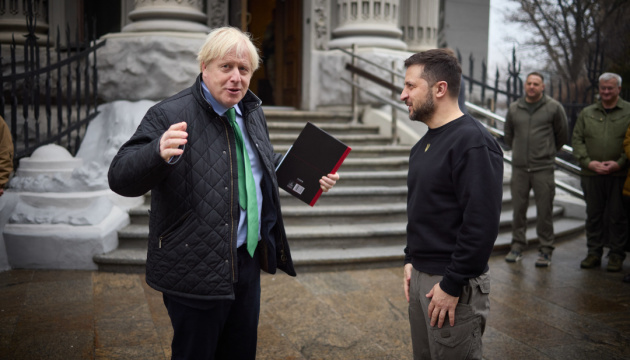 You have shown character: Zelensky thanks Johnson for rallying allies around Ukraine
President Volodymyr Zelensky of Ukraine in his address to British MPs in Westminster Hall, thanked the United Kingdom for supporting Ukraine from Day 1 of Russian invasion, separately noting the role of ex-Prime Minister Boris Johnson in uniting allies.
This was reported by Ukrinform's own correspondent.
"Ladies and Gentlemen, I thank you for your bravery. Thank you very much from all of us. All applause for you. London has stood with Kyiv since Day 1. From the first seconds and minutes of the full-scale war, Great Britain, you extended your helping hand when the world had not yet come to understand how to react. Boris, you got others united when it seemed absolutely, absolutely impossible. Thank you. All of you have shown your creed and character back then – strong British character. You didn't compromise Ukraine and hence, you didn't compromise your ideals and thus you didn't compromise the spirit of these great islands. Thank you very much," Zelensky said in his address.
As reported, in his speech to British MPs in Westminster Hall, the President of Ukraine also separately thanked Prime Minister of Great Britain, Rishi Sunak, for the decision to provide Ukraine with Challenger battle tanks.
Photo: President's Office, archive