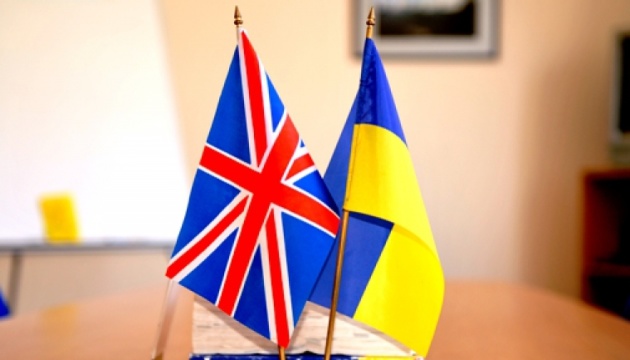 UK to train Ukrainian pilots, provide Ukraine with longer range capabilities
The United Kingdom will expand training for the Armed Forces of Ukraine to sea and air, including fighter jet pilots and marines, and will also provide Ukraine with longer range capabilities.
According to Ukrinform, the UK Government said this in a statement posted on its website.
"Since 2014, the UK has provided vital training to Ukrainian forces, allowing them to defend their country, protect their sovereignty and fight for their territory. I am proud that today we will expand that training from soldiers to marines and fighter jet pilots, ensuring Ukraine has a military able to defend its interests well into the future. It also underlines our commitment to not just provide military equipment for the short term, but a long-term pledge to stand shoulder-to-shoulder with Ukraine for years to come," UK Prime Minister Rishi Sunak said.
According to the statement, at today's meeting, Sunak and Ukrainian President Volodymyr Zelensky "will discuss a two-pronged approach to UK support for Ukraine, starting with an immediate surge of military equipment to the country to help counter Russia's spring offensive, and reinforced by long-term support."
The Prime Minister will also offer the UK's backing to President Zelensky's plans to work towards a just and lasting peace for Ukraine.
"As part of today's talks, the Prime Minister will offer to bolster the UK's training offer for Ukrainian troops, including expanding it to fighter jet pilots to ensure Ukraine can defend its skies well into the future. The training will ensure pilots are able to fly sophisticated NATO-standard fighter jets in the future. As part of that long-term capability investment, the UK will work with Ukraine and international allies to coordinate collective support to meet Ukraine's defensive needs," the statement said.
That training will be in addition to the recruit training program already running in the UK, which has seen 10,000 Ukrainian troops brought to battle readiness in the last six months, and which will upskill a further 20,000 Ukrainian soldiers this year. The UK will continue to work with the Ukrainian Armed Forces and international community to scale the program up in 2023.
Just last week, Ukrainian troops arrived in the UK to learn how to command Challenger 2 tanks, following the Prime Minister's decision to send the main battle tanks to Ukraine.
"The Prime Minister will also offer to provide Ukraine with longer range capabilities. This will disrupt Russia's ability to continually target Ukraine's civilian and critical national infrastructure and help relieve pressure on Ukraine's frontlines," the statement said.
The President and his team will also meet defense and security chiefs, including the Chief of Defense Staff and Chief of the Air Staff, to discuss the details of the training program.