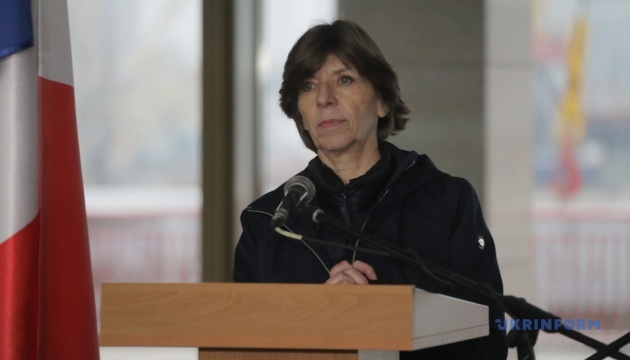 FM Colonna: France to base its diplomatic initiatives on Ukraine's Peace Formula
France supports the ten-step Peace Formula proposed by President Volodymyr Zelensky and will base its diplomatic initiatives on it.
"At the G20 summit, President Zelensky presented his ten-point Peace Formula. France provides all kinds of support to this Ukrainian initiative. President Macron confirmed this in a recent conversation [January 24] with President Zelensky. It is on the basis of this formula and this plan that we will develop our diplomatic initiatives, in particular on the eve of the sad anniversary of the beginning of the war," Minister of Europe and Foreign Affairs of France Catherine Colonna said at a joint press conference with Minister of Foreign Affairs of Ukraine Dmytro Kuleba in Odesa, an Ukrinform correspondent reports.
The minister said that during the negotiations with the Ukrainian colleague, it was discussed how to fight against Russian narratives that "turn everything upside down, abdicate responsibility, and manipulate others."
"But the facts are the facts: there is an aggressor and there is a victim of aggression in this war. Russia willfully decided to launch aggression against its neighbor – an independent free country. This war has been going on for a year, in which no rules are followed, including the laws of war, and we know absolutely clearly who is responsible for it," Colonna stressed.
The top diplomat noted that France will continue to support Ukraine in all areas – humanitarian, security, economic, diplomatic, and political – and will do it "faster and more" until Ukraine restores its territorial integrity and sovereignty.
Minister of Europe and Foreign Affairs of France Catherine Colonna is on a visit to Odesa on Thursday, January 26.
ol