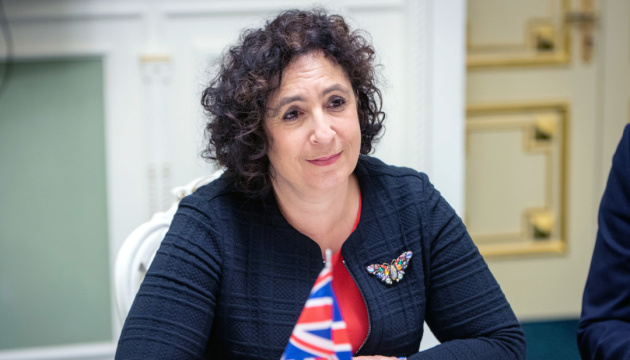 British Embassy in Ukraine remains in Kyiv despite Russian strikes
The British Embassy in Ukraine has no intentions to evacuate Kyiv.
That's according to Ambassador Melinda Simmons, who spoke in an interview with Interfax-Ukraine, Ukrinform reports.
"No, there are no plans to evacuate. We're here with security that enables us to be here. I've now been here for months, I'm living in this war, just like you're living in this war. It's certainly true to say that the circumstances for taking us out are already different from the circumstances under which we first left back in February. That's not just because we think the threat is less serious: it's still serious. We have a better idea now of both Ukrainian capability and also Russia's," the envoy said.
The ambassador added that the embassy staff's "commitments are pretty strong" and that leaving Kyiv would send a certain "signal" to Ukrainians.
"I go into shops to buy something and someone gives me my change and says: 'You're not leaving, are you?' So, I know that it's important for many regular Ukrainians and certainly for some countries, in particular. I do notice. It can create a pressure, in the sense that, maybe you can't leave because then it sends a signal," Simmons stressed.
As reported earlier, since October 10, Russia has been launching massive missile and drone attacks targeting Ukrainian energy infrastructure. Invaders have hit multiple power generation facilities and certain objects of the country's power transmission system.
According to President Volodymyr Zelensky, as of November 1, strikes by Russian troops damaged about 40% of Ukraine's energy infrastructure.
Photo: Twitter / Melinda Simmons