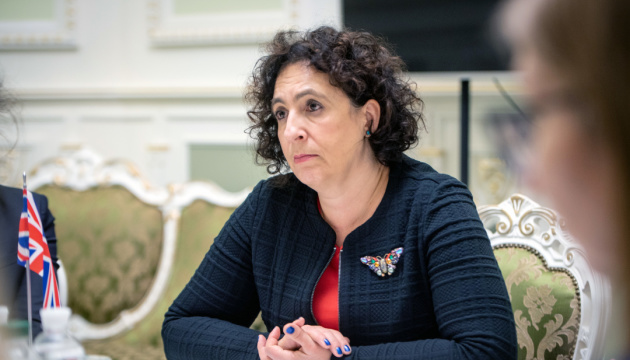 Ukrainian Army compatible with NATO, defense reform is still needed - Simmons
The decision on Ukraine's accession to NATO is related to the institutional reform of defense mechanisms, while the requirement for the Armed Forces' compatibility with the Allied armies had been fulfilled even before Russia's full-scale invasion of Ukraine.
This was stated by British Ambassador to Ukraine Melinda Simmons in an interview with Interfax-Ukraine, Ukrinform reports.
"I think there's an element of political decision in all of it. There always has been and always will be. I don't think that's discounted. But I also think that there's a close relationship between the need for essential reforms and the political decision because if you don't make progress on those essential reforms, you provide a very convenient reason for those who may be less interested in expanding membership not to continue," Simmons said.
According to her, the war proved that the level of training of the Armed Forces meets the standards of NATO Allies.
"Frankly, the one thing that nobody wanted - this war to happen - has shown how capable the Ukrainian Armed Forces can be of operating with NATO standard equipment. But we actually did know that before the war. I'm sorry to say they had to be tested on it. But we did already know the interoperability was not the issue, in the sense that was already being met. The issue was institutional reform of defense mechanisms, defense procurement, defense human resources, etc., where we all know there's quite a lot of work still to be done," the ambassador noted.
She emphasized that, despite the fact that it is difficult to think about such reforms as the Russians are bombing Ukrainian facilities, it remains important, not in the terms of joining or not joining NATO, but also in order to have a strong Armed Forces in the future.
The British ambassador noted that her embassy continues this work in Ukraine jointly with the Ministry of Defense.
As reported, on September 30, President Volodymyr Zelensky, Chairman of the Verkhovna Rada Ruslan Stefanchuk, and Prime Minister Denys Shmyhal signed Ukraine's application to join NATO under the streamlined procedure.
The presidents of Central and Eastern European nations, which are members of the North Atlantic Treaty Organization, in a joint statement on October 2 strongly condemned Russian aggression against Ukraine and supported Ukraine's intention to join the Alliance. In particular, Ukraine's accession was supported by the presidents of the Czech Republic, Estonia, Latvia, Lithuania, North Macedonia, Poland, Romania, Montenegro, and Slovakia.