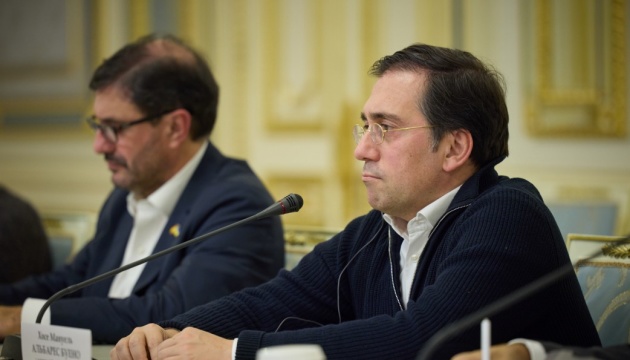 FM Albares: Spain understands need to protect Ukrainian sky
José Manuel Albares Bueno, Minister of Foreign Affairs, European Union and Cooperation of Spain, saw with his own eyes the consequences of Russian shelling during his visit to Kyiv and made sure of the need to protect the Ukrainian sky from missiles and drones.
"I am in Kyiv for the second time this year. It has changed a lot since what I saw in February, just before Vladimir Putin started this illegal and brutal aggression that turned into a war... I could see with my own eyes the wounds of war, which are visible not only on the buildings but also in the eyes of Ukrainians... Spain understands, and Minister Kuleba also told me about it, that it is extremely necessary at this moment to protect the Ukrainian sky, because today I saw the destruction in Kyiv, where six people were killed," Minister Albares said at a joint press conference with Minister of Foreign Affairs of Ukraine Dmytro Kuleba in Kyiv, an Ukrinform correspondent reports.
He expressed solidarity with the Ukrainians fighting for their independence "with all their strength, courage, and great pride."
"I want to convey our firm support to Ukraine and today I arrived to do it personally. This is political, diplomatic, humanitarian and military support to protect the sovereignty and territorial integrity of Ukraine and help the civilian population suffering from illegal aggression," the minister said.
In this context, Albares noted that the latest package of Spain's military aid would include air defense systems against Russian drones and missiles.
As reported, Minister of Foreign Affairs of Ukraine Dmytro Kuleba announced a new package of military aid from Spain, which includes a battery of Aspide missile system with missiles, four Hawk air defense systems, anti-tank missile systems, mortars and munitions for them.
On October 10, six people were killed and about 50 people were injured in Shevchenkivsky district of Kyiv due to Russia's massive missile attack.
Photo credit: José Manuel Albares @jmalbares
ol