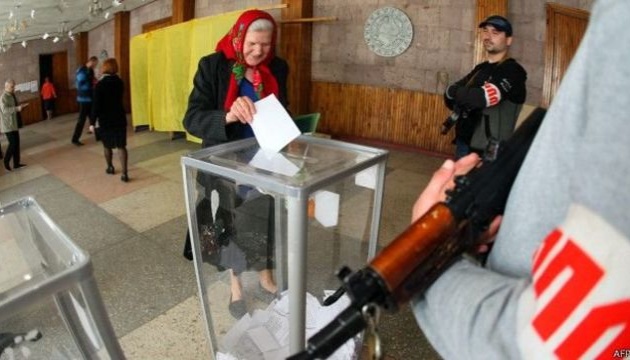 Ukraine Parliament calls on citizens to snub sham referendums if Russia holds any in occupied areas
The Ukrainian Parliament calls on the residents of the temporarily occupied territories not to participate in the provocative and illegitimate pseudo-referendums that the aggressor power, the Russian Federation, intends to hold there.
This is reported by Ukrinform with reference to the press service of the Verkhovna Rada Office.
According to the Deputy Chair of the Ukrainian Parliament, Olena Kondratyuk, who is one of the co-authors of Resolution No. 7598 "On the Address of the Verkhovna Rada of Ukraine to the United Nations, European Commission, European Parliament, Council of Europe, Organization for Security and Cooperation in Europe, and their parliamentary assemblies, governments and parliaments regarding the non-recognition of the organization and holding by the occupying administrations of the Russian Federation of pseudo-referendums in the temporarily occupied territories of Ukraine," Russia intends to change the legal status of these territories, grossly violating international law, primarily the right to respect for the sovereignty and territorial integrity of Ukraine.
The preparation of such pseudo-referendums, in particular, is evidenced by numerous reports in mass media, as well as data from Ukrainian intelligence and Ukraine's international partners. The Russian aggressor is now preparing grounds for the annexation of Ukrainian territories with their subsequent annexation to the Russian Federation, the deputy stressed.
"We're facing a new threat – a repetition of the 'Crimea scenario' by the aggressor power, the Russian Federation. Kremlin puppets, collaborators, and scum who turn on our patriots across the temporarily occupied territories, limit access to Ukrainian television and internet, force our citizens to obtain Russian passports, and create filtration camps. With this resolution, the Verkhovna Rada of Ukraine states that such pseudo-referendums cannot and will not be recognized by any international organization or country of the civilized world, and the state of Ukraine," stressed Kondratiuk.
The document also contains a call to the international community to facilitate criminal prosecution of individuals who called for or took an active part in the organization and holding of illegitimate referendums and other events of a political nature in the territories of Ukraine occupied by the Russian Federation, carried out informational and other activities in cooperation with the aggressor power and its occupation administrations.
As reported, the Russian occupiers have revealed they intend to hold in the temporarily occupied territories of Ukraine "referendums" on acceding to the Russian Federation.