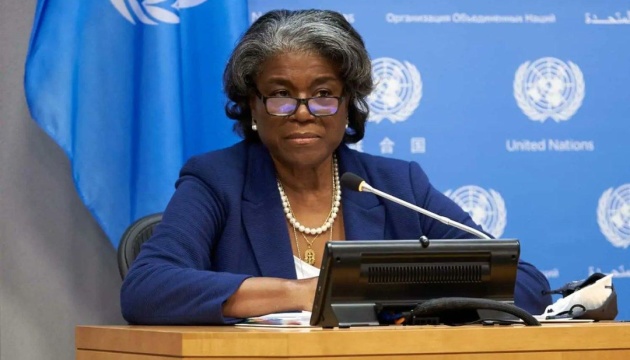 U.S. to react to any annexation attempts by Russia - statement at UN
The United States, along with its allies and partners in the United Nations, will react to any attempts on the part of Russia to annex new territories in Ukraine. This will be done to protect the world order and the UN charter.
That's according to Linda Thomas-Greenfield, the U.S. Ambassador to the UN, who addressed the UN Security Council on Friday, July 29, an Ukrinform correspondent reports.
Recalling that Russia is now reviewing its plans for the annexation attempts in Kherson and Zaporizhia regions, as well as the entire territory of Donetsk and Luhansk regions, Thomas-Greenfield said: "This is galling. The acquisition of territory by force is about as clear a violation of the UN Charter as you can get."
"We cannot, we will not stand by and let it happen," Thomas-Greenfield said.
"Russia has effectively set the UN Charter on fire," the U.S. ambassador emphasized.
She has also addressed the representatives of countries calling for "all parties" to stick t diplomacy, without calling Russia out. It is precisely Russia's actions that remain the only obstacle to resolving the ongoing crisis.
As reported earlier, the UN Security Council was convened on Friday to discuss the latest developments in Ukraine.