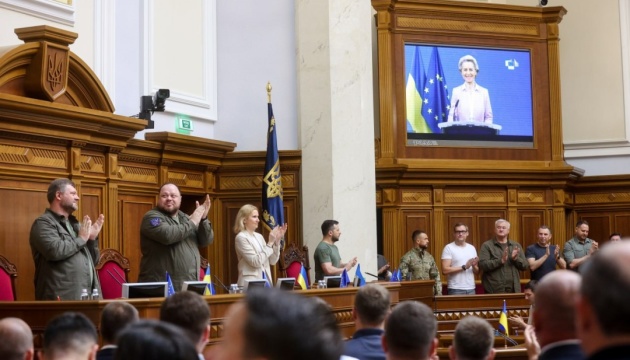 EC President von der Leyen: Europe will not rest until Ukraine prevails
Europe will stand up with Ukraine as long as it takes and will not rest until Ukraine prevails.
"Just days ago, on Constitution Day, President Zelensky, you said that your 'victory is not far off'. Of course, Putin's army is still killing your brothers and sisters. They continue occupying your land, stealing your grain and bombing your cities. You are fighting back bravely. And Europe will stand up with Ukraine as long as it takes. We will not rest until you prevail," European Commission President Ursula von der Leyen said in her address to the Parliament of Ukraine on Friday, an Ukrinform correspondent reports.
She noted that granting the EU candidate status to Ukraine had seemed almost unimaginable just five months ago.
"Today is first and foremost a moment to celebrate this historic milestone. A victory of determination and resolve. And a victory for the whole movement that started eight years ago on the Maidan. You have chosen firmly to be a democracy and to live under the rule of law. This choice, Ukraine has already made for itself, for its own sake," von der Leyen stressed.
On June 23, the Heads of State and Government of the European Union adopted a decision to grant Ukraine the EU candidate status.
On February 24, Russian president Vladimir Putin announced a full-scale invasion of Ukraine. Russian troops destroy infrastructure facilities, massively shell residential neighborhoods of Ukrainian cities, towns, and villages using artillery, rocket launchers, and ballistic missiles.
ol