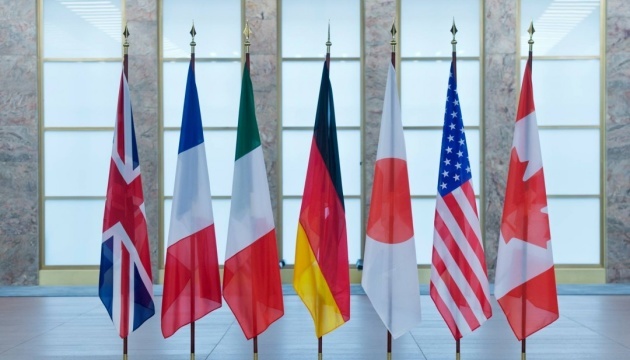 G7 Leaders to provide support and stand with Ukraine for as long as it takes – statement
The Leaders of the Group of Seven (G7) will continue to provide support and stand with Ukraine for as long as it takes, and will intensify sanctions pressure on Russia.
The relevant G7 Statement on Support for Ukraine was released after the G7 Leaders' meeting on June 27, 2022, in which Ukrainian President Volodymyr Zelensky also took part via video link, an Ukrinform correspondent reports.
"We, the Leaders of the Group of Seven (G7), are steadfast in our solidarity with Ukraine, and reaffirm our unwavering commitment to support the government and people of Ukraine in their courageous defence of their country's sovereignty and territorial integrity, and in their fight for a peaceful, prosperous and democratic future. […] We will continue to provide financial, humanitarian, military and diplomatic support and stand with Ukraine for as long as it takes," the statement reads.
The G7 condemned Russia's brutal, unprovoked, unjustifiable and illegal war of aggression against Ukraine, and reiterated their demand that Russia put an end to this war of choice, and immediately, unconditionally cease all hostilities and withdraw its troops and military equipment from the entire territory of Ukraine within its internationally recognised borders.
The G7 noted that this devastating war had produced dramatic consequences far beyond Europe.
The G7 expressed support for Ukraine's efforts to end the war. It is up to Ukraine to decide on a future peace settlement, free from external pressure or influence, the G7 added.
The G7 Leaders condemned Russia's unjustified use of nuclear rhetoric and signaling, and reiterated that any use of chemical, biological or nuclear weapons would be unacceptable and met with severe consequences.
"We urge Russia to behave responsibly and exercise restraint, and reiterate that any use of such weapons would be unacceptable and met with severe consequences," the G7 noted.
They also expressed serious concern after the announcement by Russia that it could transfer missiles with nuclear capabilities to Belarus.
The G7 will continue to coordinate efforts to meet Ukraine's urgent requirements for military and defence equipment. They will also continue to coordinate to provide Ukraine with the "material, training and logistic, intelligence, and economic support to build up its armed forces".
With a view to a viable post-war peace settlement, the G7 are ready to reach arrangements together with interested countries and institutions and Ukraine on sustained security commitments to help Ukraine defend itself, secure its free and democratic future, and deter future Russian aggression.
"We stand ready to further strengthen Ukraine's resilience by expanding our cooperation in intelligence and information sharing, information security, as well as maritime security. We will continue supporting Ukraine in defending its networks against cyber incidents and expand our cooperation in the fields of energy security, the safety and security of nuclear material and facilities, environmental, and water use issues," the G7 stressed.
They also promised to continue to support Ukraine in resisting threats to its democratic institutions and their common democratic values and principles, including through support for free media as well as countering disinformation and interference in democratic processes.
The G7 provided and pledged more than USD 2.8 billion in humanitarian assistance to Ukrainian refugees in 2022. They underlined their shared commitment to continue to provide substantial and ongoing humanitarian support to those affected by Russia's war, in particular to protect the rights of women and children.
The G7 called on Russia to comply with its obligations under international humanitarian law. They urged Russia to immediately provide for safe, rapid, and unimpeded humanitarian access and make safe passages work, enabling humanitarian aid to be delivered to besieged cities and civilians to reach safety towards a destination of their choice.
Furthermore, the G7 demanded that Russia immediately allow the safe return of Ukrainian nationals taken often with force to Russia without their consent.
According to the G7, Russia and its proxies must respect international humanitarian law, including the rights and protections afforded to prisoners of war under the Geneva Conventions. The G7 condemned the sham 'trials', resulting in application of the death sentence to members of the Ukrainian Armed Forces.
The G7 strongly condemned ongoing attacks on civilians and noncombatants, the systematic targeting of critical infrastructure, schools and kindergartens, healthcare personnel and facilities, as well as conflict-related sexual and gender-based violence in Ukraine. They further condemned the deliberate targeting of Ukrainian cultural sites and regarded the destruction of Ukrainian heritage by Russian forces – and suppression of the Ukrainian language and media in areas illegally occupied by Russia – as an attempt to wipe out Ukraine's history and cultural identity.
Meanwhile, the G7 welcome and support the ongoing work to investigate war crimes and other atrocity crimes, including by the Prosecutor of the International Criminal Court (ICC), the independent international commission of inquiry mandated by the United Nations Human Rights Council (UNHRC) and the work of the Expert Missions under the Moscow Mechanism of the Organization for Security and Co-operation in Europe's (OSCE) as well as the national investigations by the Office of the Prosecutor General of Ukraine.
"The immediate perpetrators of war crimes and other atrocity crimes, as well as officials and military leaders responsible for their commission, must be held to account in accordance with international law," the G7 stressed.
The G7 urgently called on Russia to cease, without condition, its attacks on agricultural and transport infrastructure and enable free passage of agricultural shipping from Ukrainian ports in the Black Sea. The G7 are united and determined to strongly support Ukraine in producing and exporting grain, oil, and other agricultural products.
In addition, the G7 remain steadfast in their commitment to unprecedented coordinated sanctions measures in response to Russia's war of aggression, the impacts of which will compound over time.
The G7 will continue to assist the global economy and take action to help mitigate spillover effects, especially relating to humanitarian and other basic needs, and vulnerable populations.
The G7 also welcomed the European Council's decision to grant the status of candidate country to Ukraine and Moldova.
mk