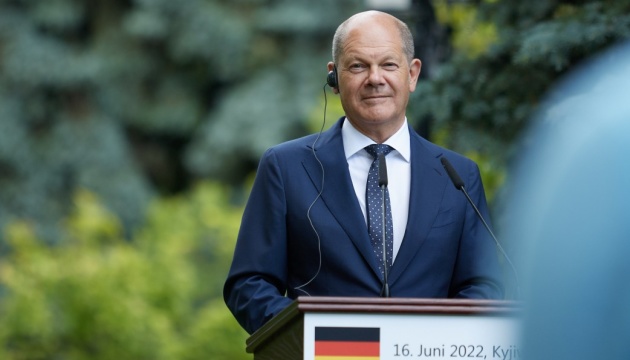 Scholz on Ukraine's EU candidate status: We will try to gain 27 "yes" votes at summit
Germany will continue to support Ukraine in its just war against Russia.
This was stated by German Chancellor Olaf Scholz Saturday in a Kanzler Kompakt address, Ukrinform reports.
The Chancellor noted that Russia has attacked Ukraine, which means that the war is going on again in Europe. Many people have already died, many househoulds, many cities and villages have been destroyed. Scholz said after he boarded a train in Poland together Italy's Prime Minister Mario Draghi and French President Emmanuel Macron, he set out for Kyiv. Upon their arrival, the politicians visited Irpin near Kyiv and witnessed the destruction caused by Russian invaders there.
"Terrible," commented the head of the German government.
According to the Chancellor, Scholz and his colleagues made it clear that Europe would continue to demonstrate solidarity with Ukraine.
"We will continue to provide financial resources. We will help with recovery. We will continue to supply weapons that are essential to protect Ukraine's independence. And we imposed economic sanctions and trade restrictions against Russia to stop its invasion and withdraw troops," Scholz said.
He said that presently it means the "association of solidarity and prospect." Since many people fight for freedom and democracy in Ukraine, they want to know what else is needed to bring Ukraine to Europe.
"We said that Ukraine needs the status of a candidate country," the Chancellor said. He recalled that this will be discussed in Brussels Thursday. "And we will try to get 27 'yes' votes for a specific decision, a joint decision of the European Union, which also opens this prospect," Scholz said.
The leaders of four European countries (Germany, France, Italy and Romania) visited Kyiv and Irpin on June 16. At a press conference after negotiations with President of Ukraine Volodymyr Zelensky, they all confirmed their support for granting Ukraine the status of an EU candidate status but warned of a long way of reforms on the path to the membership.