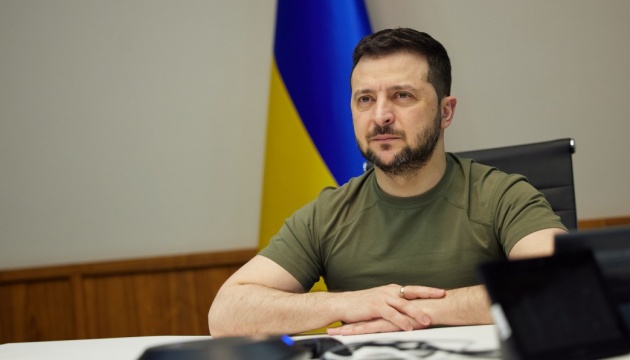 Zelensky wants fast-track EU membership for Ukraine
President of Ukraine Volodymyr Zelensky, speaking via video link at the High-Level International Donors' Conference for Ukraine being held in Warsaw, Poland, said Ukraine must move to the European Union quickly.
According to an Ukrinform correspondent, he called for granting Ukraine candidate status under a fast-track procedure, amid the ongoing war.
"Ukraine's membership in the European Union should become a reality, not promises, prospects," he said.
The Ukrainian head of state stressed that Ukraine is ready for these steps. "Ukraine needs to move quickly toward the European Union, gaining the status of a candidate, which must be provided now, in wartime, under a special expedited procedure," he added.
As Ukrinform reported, the High-Level International Donors' Conference for Ukraine is taking place in Warsaw, Poland, on Thursday, May 5. Initiated by Prime Minister of Poland Mateusz Morawiecki and Prime Minister of Sweden Magdalena Andersson, the conference is set to raise funds for the mounting humanitarian needs of Ukraine. Poland and Sweden thus seek to mobilize substantial pledges to support the UN humanitarian response in Ukraine and to discuss further steps toward supporting Ukraine's efforts to handle the economic challenges created by the war. The partners of the event are President of the European Commission Ursula von der Leyen and President of the European Council Charles Michel.
According to the UN, 13 million people in Ukraine need such basic humanitarian assistance as housing, food, and medicine. Therefore, according to the Polish Prime Minister's Office, it is necessary to immediately mobilize international aid to Ukraine, which currently covers less than 15% of existing needs.
The number of refugees from Ukraine who have been forced to leave their homes and move abroad as a result of the Russian invasion has already exceeded 5.6 million.