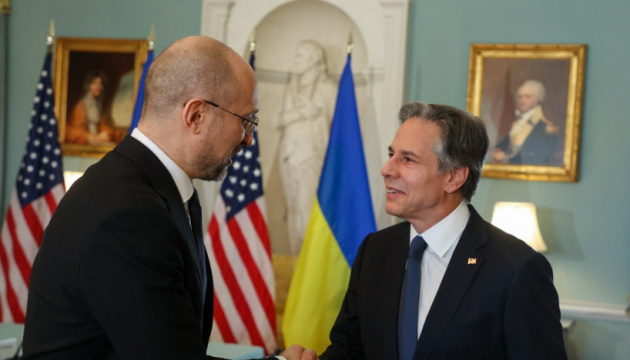 Shmyhal calls on U.S. to disconnect all Russian banks from SWIFT
During a meeting with U.S. Secretary of State Antony Blinken, Prime Minister Denys Shmyhal of Ukraine called for the disconnection of all Russian banks from SWIFT and the recognition of Russia as a sponsor of terrorism.
According to Ukrinform, the head of the Ukrainian government announced this on Telegram.
"Together with the United States, we will strengthen coordination of sanctions policy. During a meeting with U.S. Secretary of State Antony Blinken, he called for disconnecting absolutely all Russian banks from SWIFT, as well as recognizing Russia as a sponsor of terrorism. It will be a powerful political signal for the whole world," Shmyhal wrote.
The prime minister expressed hope that the United States would diplomatically and economically contribute to the realization of Ukraine's European aspirations and ultimate accession to the EU.
"The Secretary of State assured that the United States would continue to support Ukraine as much as possible and continue to actively coordinate its actions with European allies in order to increase pressure on Russia," Shmyhal said.
He also said that he had discussed with Blinken American support for Ukraine and Ukrainians.
"During the meeting, he stressed that sanctions, funds, and weapons are key components of Ukraine's victory. It is difficult to overestimate the level of U.S. assistance," Shmyhal added.
According to the head of government, he told Blinken how heroically the Armed Forces are resisting the Russian invasion.
"Our Army has shown a high level of professionalism, including through training with European and American counterparts over the recent years. I stressed the need to continue this good tradition. I informed our partners that Ukraine needs modern weapons to protect our people," the Prime Minister said.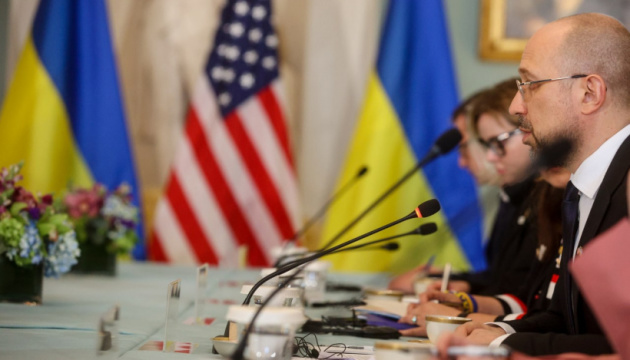 The head of government also told the Secretary of State about the crimes committed by the Russian military against the civilian population, the shelling and destruction of people's homes.
"We are counting on U.S. support in funding humanitarian and social programs," he said.
In addition, the parties raised issues of global food security as Russia, by blocking Ukrainian ports, is provoking a crisis in many countries, and these actions need to be given a decent response.
Shmyhal noted that at each meeting with American partners, the Ukrainian delegation feels incredible support: "Absolutely everyone I met in Washington believes in our victory. The civilized world is united around Ukraine and Ukrainians, so we will definitely win."
As reported, Prime Minister Denys Shmyhal is on a working visit to Washington on April 21-22. He is attending a ministerial of The 2022 Spring Meetings of the International Monetary Fund and the World Bank.
The Prime Minister is also holding meetings with congressmen, heads of international financial and humanitarian organizations, and U.S. government officials.