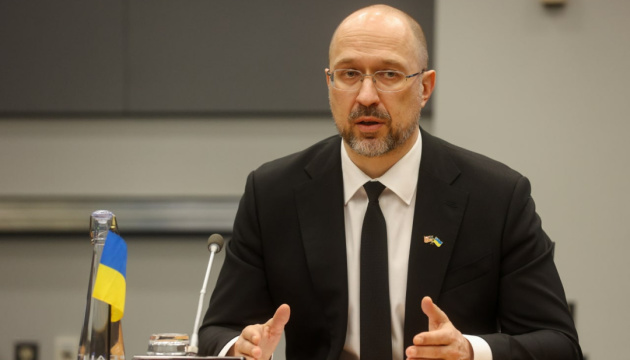 Ukrainian PM, US Secretary of Commerce discuss strengthening of sanctions against Russia
As part of his working visit to Washington, Ukrainian Prime Minister Denys Shmyhal met with US Secretary of Commerce Gina Raimondo to discuss the development of bilateral trade, reduction of trade barriers and sanctions against Russia.
According to a statement posted on the government's website, the head of government stressed the importance of continuing and intensifying sanctions pressure on Russia so as to decrease its ability to finance the war against Ukraine.
"We call on countries to look for ways to diversify their sources of nuclear fuel to reduce their dependence on Russia. This primarily concerns the issue of national security," Shmyhal said.
According to him, sanctions in the energy sector should be an important blow to eroding the Russian economy and Russia's military machine. He said this concerns the imposition of an embargo by partner countries on imports of oil, gas, coal and nuclear fuel from Russia.
Shmyhal also stressed the need to identify and eliminate any loopholes and potential opportunities for Russia to circumvent the sanctions already imposed on it.
"Russia is trying to adapt to some sanctions with the help of certain countries and companies. We will work with our partners to eliminate such opportunities for Russia," he said.
One of the most important tools, according to Shmyhal, is the large-scale restriction of Russia's trade opportunities while expanding unhindered trade opportunities for Ukraine by reducing import quotas and barriers to strategic sectors of the Ukrainian industry.
According to Shmyhal, along with the financial support of international partners, it is equally important for Ukraine to open new markets for Ukrainian products, in particular for the steel industry and the agricultural sector.
In particular, he noted that the relief of Ukrainian steel from US tariffs will provide stable supply to metallurgical enterprises with orders and thousands of Ukrainian metallurgists with work. Shmyhal emphasized that stable industries and enterprises are an important economic backbone during the war.
"Reducing any burden on various sectors of the Ukrainian industry is part of the government's new post-war economic policy, which we are already working on and implementing in coordination and cooperation with our international partners," Shmyhal said.