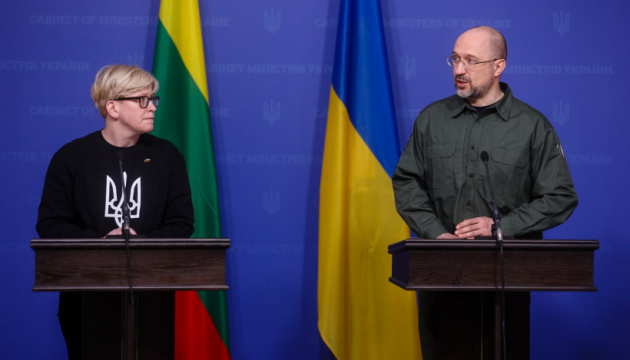 PMs of Ukraine and Lithuania discuss toughening sanctions against Russia
Prime Minister of Ukraine Denys Shmyhal and Prime Minister of the Republic of Lithuania Ingrida Šimonytė discussed the investigation into Russian war crimes and the intensification of sanctions against the aggressor.
The meeting took place in Kyiv on April 11, the Government portal informs.
Shmyhal noted that exactly two months ago they had visited the frontline territories in Luhansk region together and discussed then that Ukraine's reforms and success were the best weapons against Russia's aggression.
"Two months have passed and we live in a completely different world, but the message that Ukraine's success is the best weapon against Russia's aggression has remained unchanged," the Head of the Government of Ukraine emphasized.
He stressed that Lithuania had become the first EU country to make a number of unprecedented decisions in solidarity with Ukraine, including the complete abandonment of Russian gas imports and the decision to expel the Russian Federation's ambassador.
Shmyhal called on Lithuania, together with other friends of Ukraine, to establish an alliance within the EU to push for tougher sanctions against the aggressor. In particular, the Ukrainian PM outlined the following important steps to end the war: imposing trade, economic and transport embargo on Russia, especially on oil, gas, metals and minerals; freezing the accounts of all Russian and Belarusian banks and major Russian and Belarusian companies; cutting all Russian banks off from SWIFT, primarily Sberbank.
Shmyhal also pointed out the need to deprive Russia of the ability to use GPS during the war; prevent Russia from using cryptocurrencies to circumvent sanctions and close other loopholes that Russians are trying to use; expand sanctions against Russian oligarchs who continue to fund the Putin's regime and the war against Ukraine.
"Furthermore, we ask you to provide Ukraine with air and ground defense systems, including aircraft, multiple rocket launchers, tanks and anti-ship missiles," the PM of Ukraine urged.
For her part, Ingrida Šimonytė stressed that all atrocities committed by the Russian army in Ukraine must be thoroughly documented.
"Everyone who has been involved in these crimes must be brought to justice," said the Prime Minister of Lithuania.
On February 24, Russian president Vladimir Putin started a full-scale invasion of Ukraine. Russian troops shell and destroy key infrastructure facilities, massively fire on residential areas of Ukrainian cities, towns, and villages using artillery, MLRS, ballistic missiles, and aviation bombs.
ol