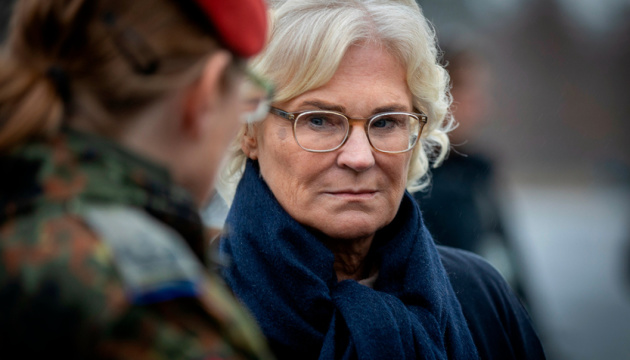 Germany's defense chief skeptical about any agreements with Russia
German Defense Minister Christine Lambrecht does not believe that Russia will abide by any agreements, even if its officials sign them.
Lambrecht commented on this on ARD TV, an Ukrinform correspondent reports.
Speaking about the war crimes committed by the Russian military in Bucha, she said: "There must be a response, there must be a reaction because such crimes must not go unanswered."
The chief of the Bundeswehr also noted that the issue of the embargo on Russian energy supplies "should be discussed in the circle of EU ministers in the coming hours."
She assured that all requests for arms supplies from the Ukrainian side are carefully vetted by the government, and weapons are being sent constantly.
Commenting on Kyiv's initiative to have other nations provide security guarantees, Lambrecht stressed that the West should not dictate to Ukraine how to negotiate with the aggressor – it should be a sovereign decision of Ukraine itself. At the same time, the politician noted that she was "very skeptical" about any agreements being discussed between Kyiv and Moscow. After all, Russia is constantly lying, so it cannot be expected that it will adhere to the agreements reached.
The German minister avoided a direct answer to the question of how the guarantor states could protect Ukraine in the event of further aggression, saying that Germany and NATO should take care that this war does not become a "wildfire."
As reported, Germany is one of the EU countries that strongly oppose the embargo on gas imports from Russia. Members of the German government argue that this will significantly worsen the economic situation in Germany. At the same time, they emphasize that the procurement curb is accelerating.