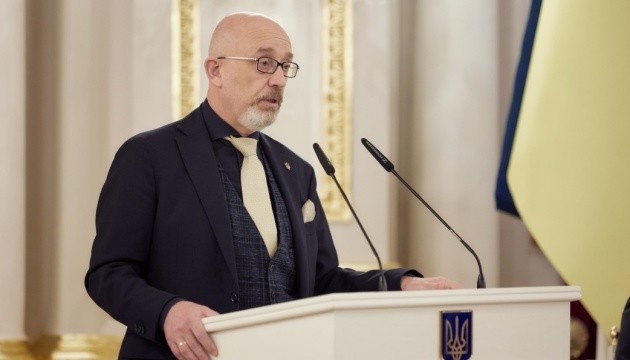 Ukraine's military attaché to visit Belarus tomorrow - Reznikov
Ukraine's Defense Minister Oleksiy Reznikov during an hour-long phone call with his Belarusian counterpart Viktor Khrenin on Sunday agreed on cooperation at the level of military attaches – on February 15 and February 19, the Ukrainian representative will observe a military exercise held in the neighboring country.
Minister of Defense Oleksiy Reznikov shared the news on the air of the Freedom of Speech panel show on ICTV, Ukrinform reports.
"We have lifted many reservations during this call. He explained to me what was happening there, we agreed that now our military attaches would be cooperating. Tomorrow our attaché will be present at the invitation of the Belarus defense ministry at the training ground where live-fire exercise will be taking place, which – he assured me – will not be directed toward Ukraine, so our attaché will be observing that. Accordingly, the Belarus attaché o will attend our exercises. And again, our attaché will attend the drill set to take place in Belarus on the 19th," the minister said.
Reznikov recalled that such visits are possible thanks to the 2001 intergovernmental agreement on cooperation, dialogue, and transparency in conducting certain military exercises.
"General Khrenin assured me that they don't want and won't take any aggressive action as these are defense exercises. He assured me that the Russian Armed Forces had been deployed temporarily, pending drills... that this is a temporary thing, for the exercises scheduled beforehand," Reznikov said.
According to the Ukrainian defense chief, he also noted that the Snowstorm 2022 exercise is purely defensive in nature and that Ukraine has no aggressive plans against Belarus. In addition, he assured his Belarusian counterpart that Ukraine would resolve all issues related to the situation in the temporarily occupied areas of Donetsk and Luhansk regions exclusively through political and diplomatic channels.
The two ministers agreed to continue the dialogue and, in case of any contingencies, to communicate immediately at the level of attaches, ministries of defense and foreign affairs.
This inspires an assumption that Ukraine and Belarus maintain friendly relations, Reznikov stressed.
As Ukrinform reported earlier, the Russian-Belarusian military exercises Allied Resolve 2022 kicked off in Belarus on February 10.
They involve government agencies, units and military units of the Armed Forces of Belarus and Russia's Eastern Military District, deployed within a short period from their bases located as far as 10,000 km away from the site of the exercise.
The units will perform exercise tasks at the Domanivsky, Gozky, Obuz-Lesnivsky, Brestsky, and Osipovitsky ranges, as well as in certain areas across Belarus, tasked with strengthening border protection "to stop infiltration of armed militant groups, locate, block, and destroy the illegal armed formations, and the enemy's sabotage and reconnaissance groups."
Also as part of the exercise, the long-range S-400 Triumph air defense system has been put on duty in Brest region bordering Ukraine.
im