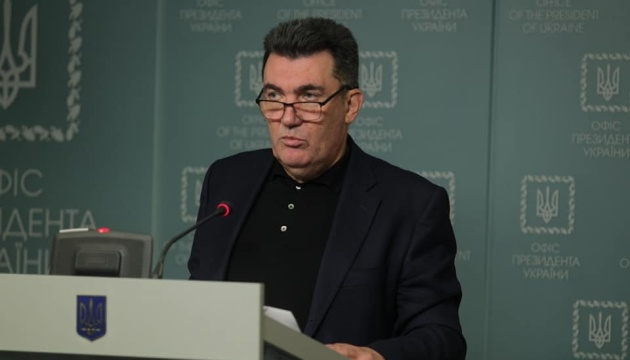 Russia betting on Ukraine's destabilization, NSDC secretary believes
The Russian Federation seeks internal destabilization in Ukraine, so society must not panic and remain calm.
This was stated by Secretary of the National Security and Defense Council Oleksiy Danilov at a briefing after a meeting of the National Security and Defense Council, answering questions from journalists, Ukrinform correspondent reports.
"Today, according to all intelligence reports that coincide with those of the United States, Britain, and other partners, internal destabilization is No. 1 issue. Without internal destabilization, the Russians have nothing to do here. They bet on the issue of internal destabilization," said Danilov.
He added that internal destabilization is needed to sow panic among the population, so that people cause the hryvnia to 'plunge,' buying dollars, which will also affect the nation's economy. The secretary of the National Security and Defense Council also called on the population to distinguish "information from fake news, of which there is a lot."
Danilov recalled that last September-November, a key issue for Russia was to destabilize Ukraine's energy system, but the country survived those efforts.
"Today I can confirm that there are 803,000 tonnes (of coal - ed) in the country at TPPs and more than 200,000 in ports. That is, today we have larger coal reserves than in the same period last year and the year before," Danilov said.
Answering the question on whether the alarm system is being tested, Danilov stressed: "it is in perfect working condition."
In addition, the secretary of the National Security and Defense Council noted that the authorities do not want to intimidate the public with alarm system tests. Such tests are run by specialists who have confirmed that the system is operable.
As reported, on January 24, President of Ukraine Volodymyr Zelensky held a meeting of the National Security and Defense Council. Among the issues considered were measures to protect national security from internal and external threats, as well as the state of affairs in the economy, energy, and countering the coronavirus pandemic.
im