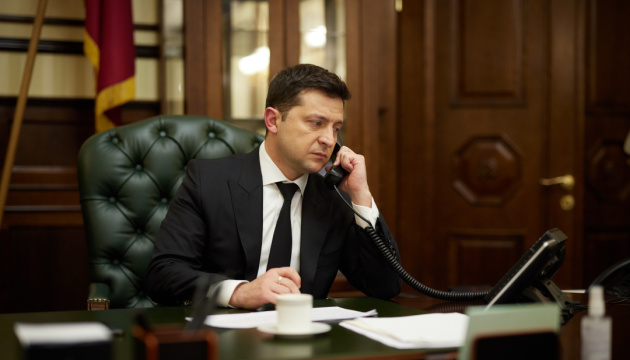 Zelensky, Sweden's PM talk over phone
President of Ukraine Volodymyr Zelensky on Wednesday had a phone call with Prime Minister of Sweden Magdalena Andersson.
That's according to the President's press service.
The president briefed his interlocutor on the security situation around Ukraine, as well as on the steps being taken to achieve peace within all available negotiation formats.
Volodymyr Zelensky also stressed the importance of uniting and coordinating political and diplomatic efforts to unlock the peace process and restore stability.
The president of Ukraine and the prime minister of Sweden welcomed the recent conclusion of the Intergovernmental Agreement on Defense Cooperation.
Volodymyr Zelensky has noted that Sweden is an important security partner of Ukraine, and thanked his interlocutor for the practical assistance already provided in this area.
"We have a strong army, the best experience and practices, and we have loyal heroes," he said, adding that today it is more important than ever to unite efforts for the stability of the nation.
For her part, Magdalena Andersson reaffirmed the Swedish government's strong and unwavering support for Ukraine's sovereignty and territorial integrity.
The president praised the Swedish side's support for Ukraine's European integration course, as well as significant practical assistance in implementing internal reforms. In this context, the readiness to deepen cooperation within the framework of the Swedish government's strategy for cooperation in reform with Eastern European nations was noted.
The interlocutors discussed the prospects of further bilateral cooperation in areas of mutual interest. Particular attention was paid to the development of cooperation in trade, investment, energy, and environmental sectors. Volodymyr Zelensky also stressed that the Ukrainian side is interested in creating a network of modern waste processing plants with the participation of Swedish companies.
"Sweden is Ukraine's largest trade and investment partner in the region. Even amid a pandemic, we see more than 50% growth in bilateral trade. This year, we expect to reach a turnover of $800-900 million. We will work to maintain these positive trends. We will also welcome Sweden's involvement in supporting the national financial system," the president said.
The prime minister of Sweden and the president of Ukraine agreed to intensify bilateral dialogue at the highest level.
im