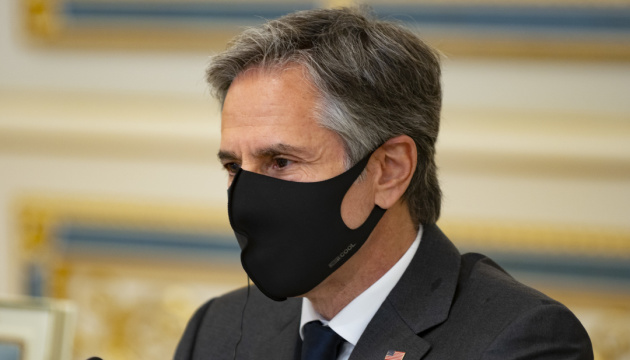 Blinken: Build-up near Ukraine enabling Putin to attack 'on very short notice'
U.S. Secretary of State Antony Blinken has stated that Russia intends to increase its force on Ukraine's border allowing for the capacity to take further aggressive action "on very short notice".
"As you all know very, very well, we have been engaged in the past couple of months in an intense focus on Ukraine because of the significant buildup we've seen of Russian forces we've seen near the Ukrainian border," Blinken told diplomats at the U.S. embassy in Kyiv, Reuters reports.
According to him, the Russian buildup was taking place with "no provocation, no reason."
"We know that there are plans in place to increase that force even more on very short notice, and that gives President Putin the capacity, also on very short notice, to take further aggressive action against Ukraine," Blinken added.
In late December, U.S. President Joe Biden's administration approved the provision of an additional $200 million in defensive security assistance to Ukraine. The security package allowed for the supply of more military equipment and weapons than provided by the United States previously, including small arms and ammunition, protected radios, medical equipment, spare parts, etc.
Today, January 19, U.S. Secretary of State Antony Blinken has arrived in Kyiv to meet with President Volodymyr Zelensky and Foreign Minister Dmytro Kuleba to "reaffirm the United States' commitment to Ukraine's sovereignty and territorial integrity."
On January 20, Blinken will travel to Berlin to discuss recent diplomatic contacts with Russia and joint efforts to curb further Russian aggression against Ukraine.
On January 21, Blinken will meet with Russian Foreign Minister Sergey Lavrov in Geneva.
ol