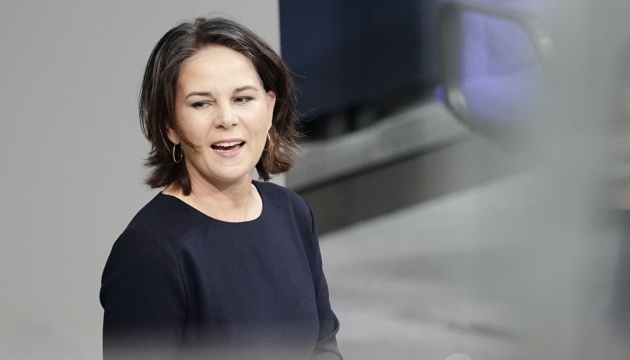 Germany's Baerbock in Kyiv discussing arms supplies
Germany has not changed its stance on the issue of providing Ukraine with defensive weapons, and will try to prove their point to the Ukrainian side during a visit to Kyiv by German Foreign Minister Annalena Baerbock.
This was stated by German Foreign Ministry's Spokeswoman Andrea Sasse, who spoke at a briefing on Monday, an Ukrinform correspondent reports.
The spokesperson noted that the Ministry was aware of statements by Ukrainian Ambassador Melnyk, circulated in the media, who demanded that the newly-appointed German government provide Ukraine with weapons for the country to defend itself against Russian aggression.
"There is nothing new in them for us as the Ukrainian government has clearly declared this position in recent weeks," Sasse said. S
he added that "this position" is, of course, one of the topics Minister Baerbock is discussing in Kyiv. However, the German Foreign Minister recently made it clear in Washington that the federal government's stance on arms control is of a restrictive nature, Sasse said.
At the same time, the diplomat noted, Germany helps Ukraine in other military-related areas, including treating the wounded Ukrainian military, helping the country build a military hospital, as well as delivering medical supplies, and more.
Federal government Spokesman Wolfgang Büchner praised the fact that various talks have been held in a number formats recently, including today's visit of the German Foreign Minister to Kyiv. He also noted that Germany had long been trying to revive the Normandy format. Büchner mentioned the "preparatory talks" between the German and French political advisers with the Ukrainian and Russian negotiators, and expressed hope that the talks would move on before "high-level negotiations in the Normandy format could be held soon."
As reported, Minister of Foreign Affairs of Germany Annalena Baerbock is in Kyiv on January 17, before flying to Moscow January 18. These are her first visits to the two capitals in the capacity of the country's top diplomat.
Photo: dpa
im