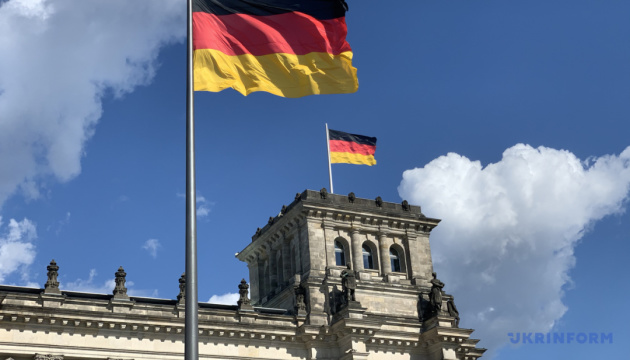 German government says provides multilateral support to Ukraine, including in military field
In response to the latest call by Ukrainian Ambassador Andrij Melnyk to provide Kyiv with defensive weapons, the German government said that the country was already helping Ukraine in the military sphere and that it would not change its policy.
This was reported by an Ukrinform correspondent.
In particular, German Foreign Ministry spokeswoman Andrea Sasse told a briefing: "Regardless of our restrictive policy on export controls, the fact is that we provide multilateral support to Ukraine, including in the military field."
In this regard, she mentioned the construction of a military hospital in Ukraine, supplies of medical equipment and sanitary materials, as well as the treatment of wounded Ukrainian servicemen, including in Bundeswehr hospitals.
For her part, a spokesperson for the federal government reiterated Berlin's position that the conflict over Ukraine should be resolved exclusively by political means, not military ones. Germany unequivocally supports the territorial integrity and sovereignty of Ukraine, she stressed.
The spokeswoman for the German government also reminded that Ukrainian issues are being actively discussed around the world this week. In this regard, she mentioned today's talks between Russia and the United States in Geneva, Wednesday's meeting of the NATO-Russia Council and Thursday's discussion of European security within the OSCE.
As reported earlier, Ukrainian Ambassador to Germany Andriy Melnyk in an interview with Funke Mediagruppe called on Germany to abandon the policy of blocking the supplies of defensive weapons to Kyiv to counter Russian aggression.
In late December, Minister of Defense of Ukraine Oleksiy Reznikov, announced that the Ukrainian Air Force would receive from the German government a mobile field hospital in January 2022. According to the defense chief, since 2014, more than 160 wounded servicemen have undergone treatment in Germany. Also, throughout the entire period since the onset of Russian aggression, Germany has transferred to Ukraine more than EUR 13 million for medical needs and procurement of equipment.
Earlier, Reznikov said Germany s had blocked defensive arms supplies to Kyiv, earlier agreed within NATO.
According to Bild, since May 2021, Germany has been using NATO's mechanism to prevent other Allies from selling weapons to Ukraine for the country to exercise its right to self-defense.
im