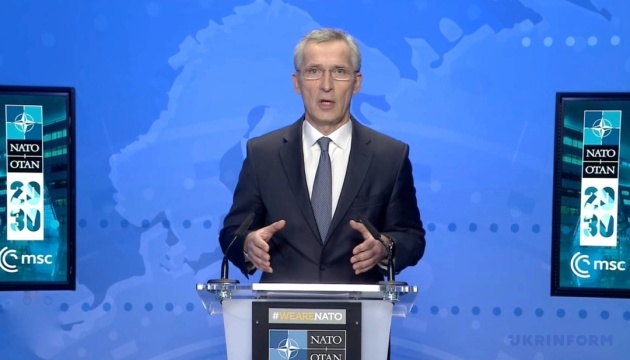 Stoltenberg: Russian troops in Ukraine, Georgia, Moldova uninvited, not welcomed
Respect for the sovereignty and territorial integrity of all nations is one of the key principles of European security, therefore NATO calls on Russia to withdraw its troops from Ukraine, Georgia, and Moldova, where they are uninvited and not welcomed.
This was stated by NATO Secretary General Jens Stoltenberg, who spoke at a press conference following a meeting of the NATO-Russia Council in Brussels, Ukrinform reports.
The agency asked whether the current blackmail by Russia and the threat of a new war in Europe would affect NATO's stance on other violations of international law by Russia, including the temporary occupation of Crimea and Donbas, Georgia, and their military presence in Moldova.
"Russia has military forces in Georgia, in Ukraine, in Crimea, and also in Moldova. And these forces are there without the consent of the governments of these countries, they are uninvited and not welcomed. And NATO Allies also in the meeting today, called on Russia to withdraw those forces and to respect the territorial integrity and sovereignty of Georgia, of Ukraine, of Moldova. And, again, these are fundamental principles to respect the borders of all countries for peace and security in Europe," said Jens Stoltenberg.
He noted that NATO engages in dialogue with Russia in good faith but will not make concessions on key principles, including the sovereignty and territorial integrity of any European nation, the right of any nation to choose its own security arrangements, and the ability of NATO allies to defend each other.
" So NATO engages in these talks, the dialogue, in good faith. (…)And then, at the same time we have to be prepared that Russia once again chooses confrontation. (…) And therefore we also made it very clear that any use of force against Ukraine will be a severe and serious strategic mistake by Russia. And it will have severe consequences and Russia will have to pay a high price," NATO Secretary General said.
He emphasized that, should Russia launch a new round of aggression against Ukraine, NATO would be forced to seriously increase military presence in its eastern flank.
At the same time, Stoltenberg noted that although NATO continues to provide political and practical support to Ukraine, it is important to remember that Ukraine is a partner, not a NATO ally. The security guarantees contained in Article 5 of the Washington Collective Defense Treaty apply to allies exclusively.
A number of diplomatic events are taking place this week to discuss European security issues and reduce tensions over Ukraine that have been provoked by Russia.
In particular, the first round of talks between Russia and the United States took place in Geneva on Monday. The NATO-Ukraine Commission met in Brussels on the eve of the NATO-Russia Council, with the participation of Olha Stefanishyna, Vice PM for European and Euro-Atlantic Integration.
On Wednesday, the security situation in Europe and around Ukraine was discussed by EU defense ministers in an informal meeting in the French city of Brest, and on Thursday, the discussion will continue with the participation of EU foreign ministers.
The current state of European security within the OSCE will also be discussed this week.
im