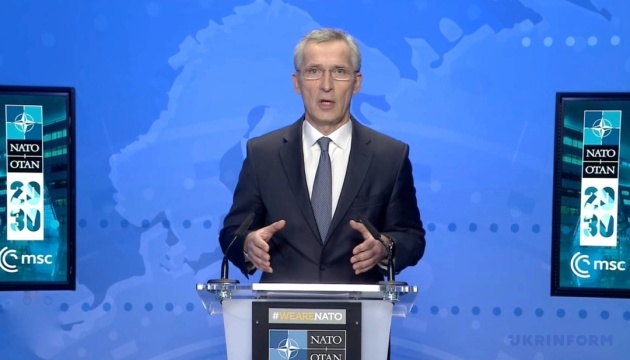 NATO calls on Russia to immediately de-escalate situation around Ukraine - Stoltenberg
NATO has called on Russia to immediately de-escalate the situation around Ukraine, and Allies recalled that any further Russian aggression against Ukraine would have severe cost.
NATO Secretary General Jens Stoltenberg said this at a press conference following a meeting of the NATO-Russia Council in Brussels on Wednesday, January 12, according to an Ukrinform correspondent.
"NATO Allies are clear-eyed about the prospects for progress in these talks. They expressed serious concern about the Russian military build-up in and around Ukraine and called on Russia to immediately de-escalate the situation and to respect the sovereignty and territorial integrity of its neighbors. They also called on Russia to refrain from aggressive force posturing and malign activities directed against Allies and abide by all its international obligations and commitments," Stoltenberg said.
At the same time, he reiterated that in an effort to defuse tensions around Ukraine diplomatically, NATO Allies must be prepared for Russia choosing the path of confrontation. In this case, according to him, any further aggression by Russia will have severe cost.
"NATO Allies stressed that they will make every effort to find a political way forward. I also welcome the bilateral consultations between the United States and Russia and tomorrow's meeting of the OSCE. These are opportunities for constructive engagement which should not be missed, in the interest of security in Europe," Stoltenberg added.
op