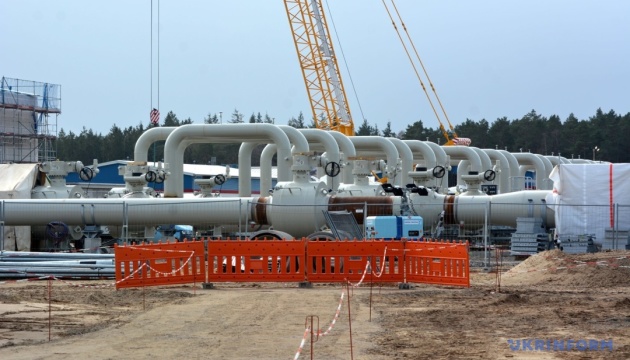 Berlin coordinating actions on Nord Stream 2 with Washington
The German side is coordinating actions on the Nord Stream 2 project with the American counterparts, while refusing to comment on new U.S. sanctions introduced against the gas pipeline.
The comment came as Spokeswoman for Germany's Foreign Ministry, Andrea Sasse, at a briefing on Wednesday answered journalists' questions about the strengthening of U.S. sanctions against the pipeline, an Ukrinform correspondent reports.
Sasse recalled that on July 21, Germany and the U.S. approved a joint statement in which she says a "constructive solution" was found to the issue of Nord Stream 2, Russia's gas pipeline laid to Germany along the bottom of the Baltic Sea, thus bypassing Ukraine.
"Since then, we have been working intensively on the implementation of this joint statement and regularly coordinating actions at various levels," said the diplomat. At the same time, she stopped short of comment on Washington's latest steps.
The United States earlier added to its Nord Stream 2-related sanctions list another company and a vessel, Transadria Ltd. and Marlin, respectively.
The U.S. Department of State stressed that along with the restrictions, the U.S. administration imposed sanctions on a total of eight individuals and 17 vessels under PEESA (Protecting Europe's Energy Security Act) in the context of the Russian gas pipeline project.
The German Federal Network Agency, which is in the process of certifying the pipe, suspended the procedure on November 16. The German regulator also granted requests applied by Naftogaz of Ukraine and Gas TSO of Ukraine LLC to participate in the Nord Stream 2 certification.
It should be recalled that the construction of Nord Stream 2 was completed in early September 2021.
im