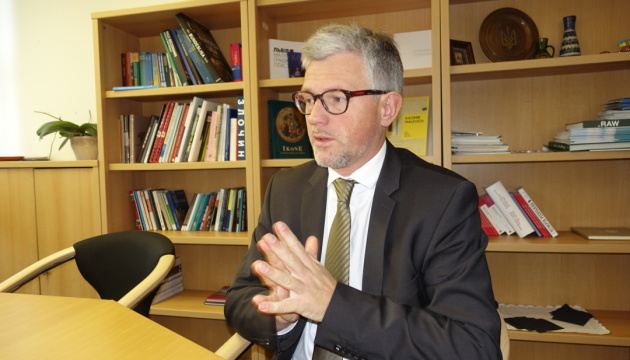 Ukraine envoy calls on Germany's future cabinet to "bury Nord Stream 2 at Baltic Sea bottom"
Ukraine's Ambassador to Germany Andrij Melnyk has called on the future German government coalition to respond to the Kremlin's destructive policy in the international arena, the amassing of Russian military presence on the border with Ukraine, and weaponization of energy.
Melnyk shared his thoughts with the German newspaper Welt, Ukrinform reports.
According to the ambassador, the new German government, which is currently being shaped by the Social Democratic Party, the Free Democratic Party, and the Greens, should send Moscow a "stern warning by burying Nord Stream 2 at the bottom of the Baltic Sea."
Melnyk reminded that, despite the fact that more than 120 days have passed since the publication of the joint German-American agreement regarding Russia's gas pipeline, nothing has happened so far to eliminate the existing economic and security-political threats the project poses to Ukraine.
"On the contrary, the threat of a new military incursion by Russia has become more acute than ever," the ambassador said. He rebuked the German side for failing to seriously address Russia's military buildup on the Ukrainian border.
"Unfortunately, this unprecedented escalation is being treated lightly in Berlin. Ignoring it this way could lead to some grave implications for the Federal Republic as well," Melnyk warned.
The article contains a detailed analysis of the current situation around the Nord Stream 2 gas pipeline, with a special emphasis on the sanctions the U.S. imposed recently. It is underscored that in this way Washington reminds Berlin that Germany must abide by its part of the agreement with the United States.
The article also notes that the co-chair of the Greens, Annalena Baerbock, who is one of the most vocal critics of the Nord Stream 2 project in Germany, has a chance to become Germany's new foreign minister.
As Ukrinform reported earlier, on September 10, Russia's energy monopoly Gazprom announced the completion of the Nord Stream 2 gas pipe construction. It was laid from Russia to Germany, bypassing Ukraine, along the bottom of the Baltic Sea. Gazprom is the sole shareholder in the project.
Ukraine, Poland, the Baltic countries, and the United States have jointly opposed the project. An agreement on Nord Stream 2 has been signed by the administration of U.S. President Joe Biden and the German government of Angela Merkel, which allows the completion of the pipeline in exchange for security guarantees for Europe.
On November 16, the German energy regulator, Bundesnetzagentur (BNetzA), suspended the certification process for Nord Stream 2 AG and granted the request of Gas TSO of Ukraine LLC to participate in the procedure. In response, Russia intends to create a subsidiary in accordance with German law, which would become the owner and operator of the German part of the pipeline.