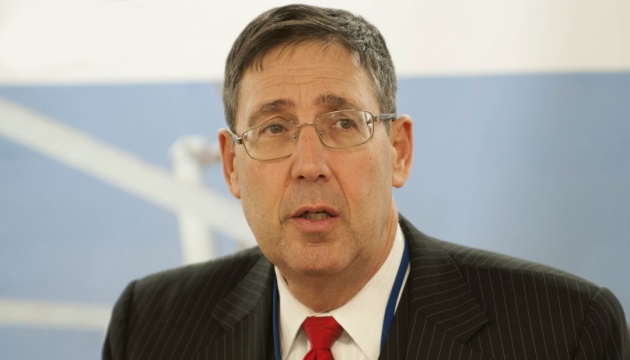 White House has at least two approaches to Russia - Herbst
The White House has two different approaches to the U.S. policy toward Russia and Ukraine: some see the need to end the Kremlin's aggressive policies immediately, while others see China as the main threat, believing that the Kremlin will eventually go bankrupt.
That's according to the chief of the Atlantic Council's Eurasia Center, former U.S. Ambassador to Ukraine John Herbst, who spoke at a discussion on the Black Sea security and militarization of Crimea at the Permanent Mission of Ukraine to the UN in New York on Tuesday, an Ukrinform correspondent reports.
There are at least two factions in the U.S. administration regarding the policy toward Russia and, accordingly, Ukraine, Herbst explained, noting that those who believe that the first imperative in U.S. relations with Moscow should be to end Putin's aggressive policy are right. Any kind of cooperation with Moscow would be valuable if Russia is forced to cease its aggressive policy, Herbst believes.
According to the diplomat, the latter group suggests that in the long run, the most dangerous threat to U.S. national security comes from China. Unlike Russia, they underline, China has a real economy, which is a necessary condition for maintaining military power at a high level for a long period.
The Kremlin, according to the group, will eventually go bankrupt, and it will be much harder for Russia to retain the status of world power in 20 to 30 years, with which Herbst agrees.
At the same time, the diplomat believes the group makes a wrong assumption that Washington needs to "park" its relations with Moscow to address the Chinese threat, he added.
It would be naïve to suggest that once the U.S. appeases the Kremlin, the latter will side with Washington against Bejing, says Herbst.
As an example of such a flawed approach to Moscow's policies, he cited Washington's efforts to work together with Moscow to fight cybercrime. Even after U.S. President Joe Biden's summit with Russian President Vladimir Putin in June 2021, where they discussed the issue, cyberattacks haven't stopped, the diplomat recalled.
He also criticized the position of the analysts who believe that Russia should be allowed to act in Ukraine so that the U.S. could work with Russia in cyberspace.
At the same time, Herbst expressed the belief that a strong American policy against the Kremlin will ultimately win.