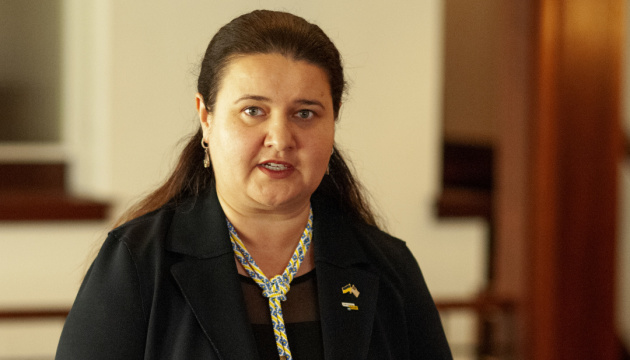 Markarova: Holodomor reminds that Russia's deadly aggression reoccurring today
The commemoration of the victims of Holodomor, the genocide of the Ukrainian people in 1932-33, reminds the current generation of fighters for Ukraine's independence that they are followers of the nation which Russia has sought to destroy throughout history.
Ambassador of Ukraine to the United States Oksana Markarova made a corresponding statement during a memorial event in Washington, D.C. to mark the Holodomor tragedy, an Ukrinform correspondent reports.
"We mourn and remember [the victims of the tragedy] together, but it's not just about memory and moaning – it's about the struggle," Markarova said.
She stressed that Ukrainian fighters for independence must now resist the aggression of the Kremlin, which in the early 1930s also exterminated millions of Ukrainians by starving them to death. According to the Ambassador, it is very important to remember the tragedy of 1932-33, to expose the truth, and to refute the Kremlin's false narratives about alleged crop failures.
"In today's struggle for our independence and territorial integrity, it is important to remember that we are not the first generation to fight against this evil," Ukraine's Ambassador to the United States said.
She expressed gratitude to the American authorities, which recognized the Holodomor as the genocide of the Ukrainian people in both chambers of the U.S. Congress, as well as at the level of individual states. According to her, this confirms globally the responsibility of the Stalin regime for its atrocities and conveys the truth to the entire civilized world.
The memorial event "Light a Memorial Candle" to commemorate the Holodomor victims was held at the Holodomor Memorial near the U.S. Capitol on Monday. The event was attended by Ukrainian diplomats, representatives of the U.S. government, the clergy, members of the Ukrainian community in the United States.
The Holodomor is the genocide of the Ukrainian people committed by the communist totalitarian regime with the intention to annihilate the Ukrainian national group in whole or in part. This qualification stems from the Convention on the Prevention and Punishment of the Crime of Genocide of December 9, 1948, and the Law of Ukraine "On the Holodomor of 1932-1933 in Ukraine" of 2006. The genocide was carried out through artificial mass famine organized by the leadership of the Communist Party of the Soviet Union and Soviet Ukraine, killing millions of Ukrainians in the Ukrainian Soviet Socialist Republic and Kuban region.
ol