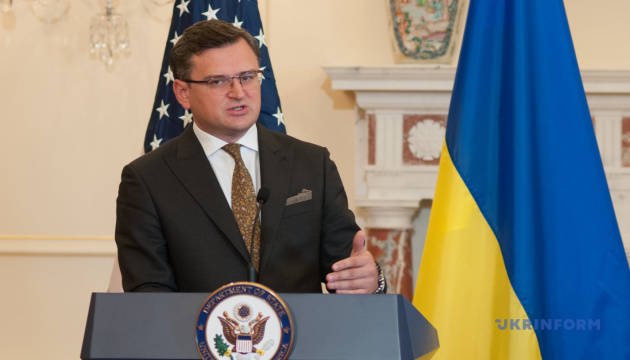 New charter with U.S. strengthening Ukraine's security in three areas - Kuleba
The updated U.S.-Ukraine Charter on Strategic Partnership is strengthening Ukraine's security in three main areas on which Ukrainian diplomats are working to counter Russian aggression - sanctions, allies, and weapons, according to Foreign Minister Dmytro Kuleba.
He said this in an interview with Ukrinform.
He stressed that such major, long-term agreements as the Charter on Strategic Partnership between Ukraine and the United States are key to countering Russian aggression.
"Bare creativity won't allow us to defeat Russia on the diplomatic front. This can only be done through systemic work, consistent efforts, and planning for years to come," Kuleba said.
He noted that Ukrainian diplomacy is strengthening security in three main areas, which can be tentatively referred to as "sanctions, allies, and weapons."
Kuleba said that when it comes to defending the country against Russian aggression, Ukraine must rely primarily on its own forces and must not harbor illusions that someone will fight for the state or defend it.
"However, we can definitely make Ukraine stronger and the aggressor – weaker. This is exactly what diplomats are doing today: we are rallying powerful allies around Ukraine, supporting and increasing the political, diplomatic, and sanctions pressure of the international community on the aggressor power, and holding talks to ensure that the Ukrainian Army gets more and more new, modern weapons," he said.
According to Kuleba, in this regard, the signing of the Charter is of great importance in all three areas of strengthening security.
"It [the Charter] provides for the expansion of military support, sends Russia a strong signal of the U.S. political support for Ukraine, and contributes to Euro-Atlantic unity in repelling Russia's aggressive moves," he said.
A meeting of the U.S.-Ukraine Strategic Partnership Commission, chaired by Ukrainian Foreign Minister Dmytro Kuleba and U.S. Secretary of State Antony Blinken, was held in Washington on November 10.
Kuleba and Blinken signed the U.S.-Ukraine Charter on Strategic Partnership, which sets out the main directions of bilateral relations in key areas for decades to come.
op