Dmytro Kuleba, Minister for Foreign Affairs
A new Charter with the United States is key to systemically countering Russian aggression
12.11.2021 11:20
The resumed work of the Ukraine-U.S. Strategic Partnership Commission and the signing of the updated Strategic Partnership Charter have already provided impetus for discussions to analysts and political experts in Ukraine and beyond.
In hot pursuit of this week's major topic, Ukrinform spoke with Dmytro Kuleba, Ukraine's Minister for Foreign Affairs whose signature sealed on behalf of Ukraine the strategic document, which will hopefully have a significant impact on our country's future and its relations with one of our key partners.
UKRAINE HAS ALWAYS LACKED LONG-TERM PLANNING
- Two months ago, Presidents Volodymyr Zelensky and Joe Biden issued a joint statement on the strategic partnership between Ukraine and the United States, which stated that the updated Charter should fix the enhanced status of such partnership between our countries. Could you please explain the status of the document you signed with U.S. Secretary of State Anthony Blinken? Is it more of a symbolic or practical nature? Is it a memorandum of intent or an action plan?
- This is neither a memorandum of intent nor an action plan, this is a long-term strategy for the development of relations between Ukraine and the United States for the next ten years. Actually, we in Ukraine have always lacked such kind of planning, I mean for ten years ahead, not a year.
Our efforts today are aimed at actively healing Ukraine's chronic shortsightedness. On instructions of President Zelensky, we have developed and approved our first-ever Foreign Policy Strategy of Ukraine; adopted a long-term strategy for the deoccupation of Crimea; set up a historic Crimea Platform aimed at pursuing long-term work on Crimea return; created new regional alliances - the Lublin Triangle with Poland and Lithuania, the Association Trio with Georgia and Moldova, and the Quadriga with Turkey.
These are all part of a new proactive, long-term foreign policy, so the signing of the new Ukraine-U.S. Strategic Partnership Charter is an important step in this wider strategy.
In diplomacy, I never bet on a "lucky ticket." Real great wins are gained through hard work - persistent, systemic, and long-term.
The signing of the new Charter with the United States is a top state-level decision. Kyiv and Washington have laid down in an official state document: this is where we are going, and in the next ten years this course won't see any changes. No matter who's at the helm of our countries, no matter what happens across the world, the "aircraft carrier" of the Ukraine-U.S. strategic partnership will sail along a designated route.
I would like to emphasize that such major, long-term agreements are key to countering Russian aggression.
Bare creativity won't allow us to defeat Russia on the diplomatic front. This can only be done through systemic work, consistent efforts, and planning for years to come. The Strategic Partnership Charter is precisely an example of such efforts.
The new Charter also testifies to Ukraine playing a more influential role globally. Our country is becoming a proactive actor in the international arena.
In addition, the signing of the document opens up a number of new prospects in our partnership with the United States: it will allow attracting new investments, creating new business opportunities, increasing defense aid, developing new security formats of cooperation with the active participation of both Kyiv and Washington.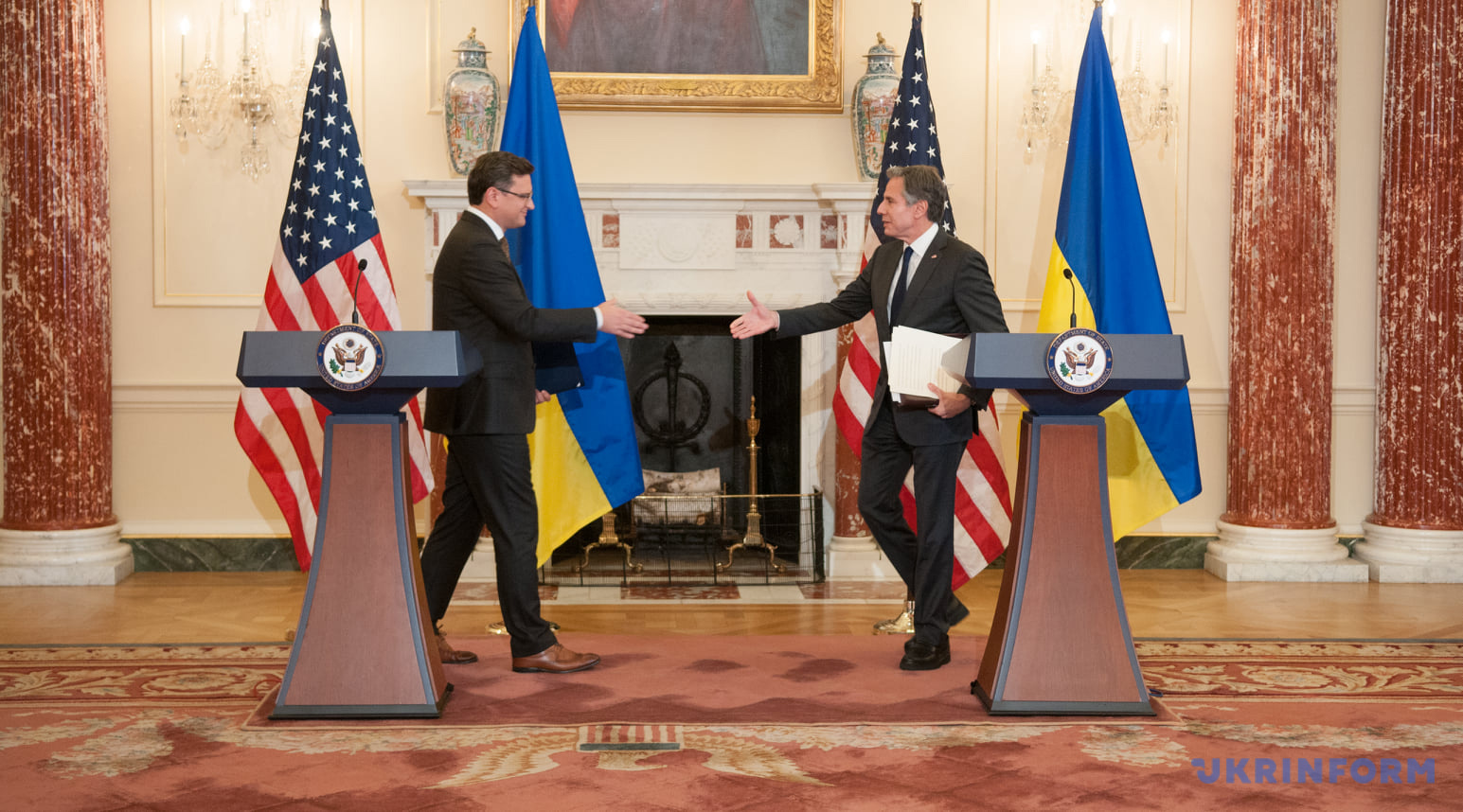 - The 2008 Charter also reaffirmed the importance of security guarantees, including with reference to the Budapest Memorandum. What will the updated Charter change for Ukraine in terms of security? How will it help us counter Russian aggression?
- The 2021 Charter addresses the new security realities as regards Russia's aggression against Ukraine. The United States emphasizes its commitment to supporting Ukraine's sovereignty, independence, and territorial integrity within its internationally recognized borders, including Crimea. The United States also noted for the first time in a document of such level its long-term support for the Crimea Platform.
The updated document lays down expanding cooperation with the United States in order to strengthen Ukraine's defense capabilities, enhance security, in particular energy, in Europe in general and the Black Sea region in particular. In the face of hybrid aggression on the part of Russia, the United States supports Ukraine's aspirations to integrate into the EU and NATO.
The United States remains our No.1 strategic partner in security, countering Russian aggression and the Kremlin's imperial ambitions.
Ukrainian diplomacy is strengthening security in three main areas, which can be tentatively referred to as "sanctions, allies, and weapons."
Of course, when it comes to defending the country against Russian aggression, we must rely primarily on our own forces. We must not harbor illusions that someone will fight for our state or defend it instead of us. However, we can definitely make Ukraine stronger and the aggressor – weaker.
This is exactly what diplomats are doing today: we are rallying powerful allies around Ukraine, supporting and increasing the political, diplomatic, and sanctions pressure of the international community on the aggressor power, and holding talks to ensure that the Ukrainian Army gets more and more new, modern weapons.
In this regard, the signing of the Charter is of great importance in all three areas of our security beef-up. It provides for the expansion of military support, sends Russia a strong signal of the U.S. political support for Ukraine, and contributes to Euro-Atlantic unity in repelling Russia's aggressive moves.
It's important to understand that security and economy are directly intertwined, therefore strengthening cooperation with the United States also sends a positive signal to investors and all those who seek to bring money to our country, create jobs, and develop long-term projects.
- The Ukraine-U.S. Strategic Partnership Commission resumed its work after a three-year break, but throughout the said period we also heard statements about the high level of our partnership. How will it be influenced once the Commission resumes its meetings?
- The resumed meetings of the Commission will definitely allow deepening and expanding the strategic dialogue between Ukraine and the United States. Volodymyr Zelensky's visit to Washington this September and the 20 agreements signed testified that the strategic partnership between Ukraine and the United States is at its highest over the years of our country's independence.
In 2021, we totally changed in our favor the course of the game in Ukrainian-American relations. Please, note: toxic scandals and attempts to destabilize our strategic partnership have been left behind and no one is talking about them anymore. We have successfully weathered this storm and retained strong bipartisan support from the United States.
We are very grateful to the U.S. for sharing our approach implying beneficial bilateral agreements, maximum specificity, and a proactive stance on key issues. That's because the priority of the President, Government, and Ministry of Foreign Affairs is systemic and persistent work, and such a strategy already yields real economic and security benefits to Ukraine.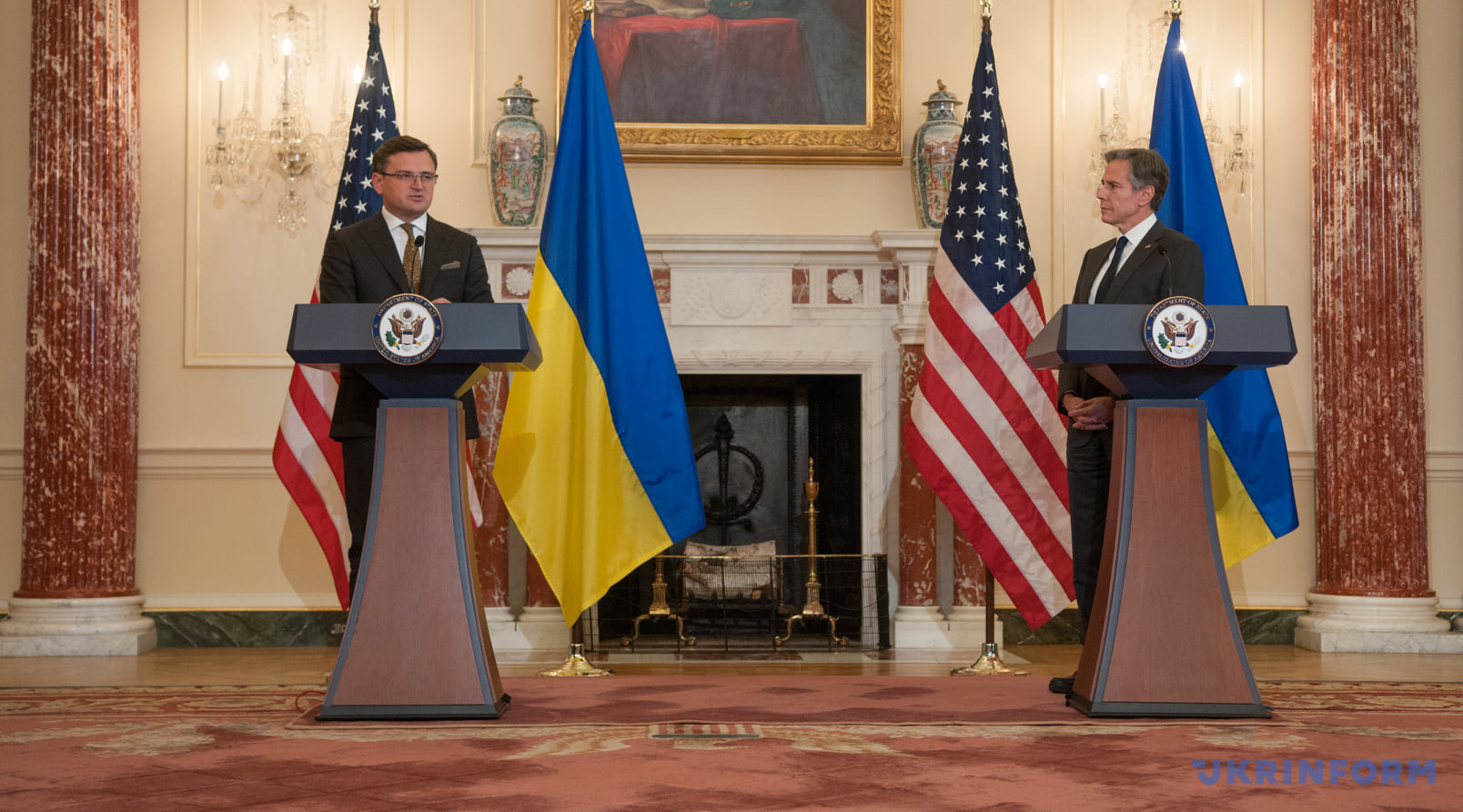 EUROPE HAS NEVER NEEDED ADDITIONAL GAS TRANSIT ROUTES
- The issue of Ukraine's energy security was also one of the points of the 2008 Charter. It said Ukraine and the United States intend to deepen the trilateral dialogue with the European Union on enhanced energy security. Did the parties analyze during the Commission meeting why this had never worked out?
- I guess at that time the world, in general, had less understanding of the lengths Vladimir Putin is ready to go in using energy resources as a weapon. Gas wars and the era of building "Streams" bypassing Ukraine all came after that first Strategic Partnership Charter was signed in 2008.
Now the situation is different. Ukraine is really persistent in conveying our position to all partners. The security of Europe in general and that of Ukraine and Central Europe depend on the diversification of energy sources and reliable supply routes. When no one has the decisive lever, everyone feels safe and energy does not become a political weapon.
Ukraine's gas transmission system offers the most reliable way to supply energy to Europe. For years, Ukraine has diligently ensured reliable transit. We're ready to continue to play this strategic role. Today, even the additional capacity of the Ukrainian GTS is twice the overall capacity of Nord Stream 2. The truth is that in Europe there's never been a market-based, economic need for additional transit routes. It was only the Kremlin that needed them, and this never had anything to do with the economy.
We continue to convey this truth to our partners, as well as the truth that the ongoing energy crisis in Europe was orchestrated and aggravated by the Kremlin for the sake of the launch of Nord Stream 2.
Although this truth might be inconvenient for some, we won't remain silent when it comes to security of our country and Europe in general.
- Ukraine's now in a difficult situation in terms of energy. Have any concrete steps on the part of the U.S. been discussed that could help our country avoid an energy crisis this winter?
- Absolutely, energy security and energy stability of Ukraine was one of the key topics of our talks. Washington is well aware that the Kremlin's gas blackmail is a threat to Ukraine's energy security and that of the European Union. Threats of this magnitude require systemic efforts on the part of the United States, the European Union, and Ukraine.
Russia always plays the card of misunderstandings and inability to respond swiftly and in a consolidated manner to threats, no matter who the targets are – Ukraine, Poland, or the United States.
But what you definitely don't want to do is panic. In fact, Ukraine is quite successful in addressing external challenges. Global energy crisis is affecting us as well, but I'm convinced that all challenges and threats will be tackled.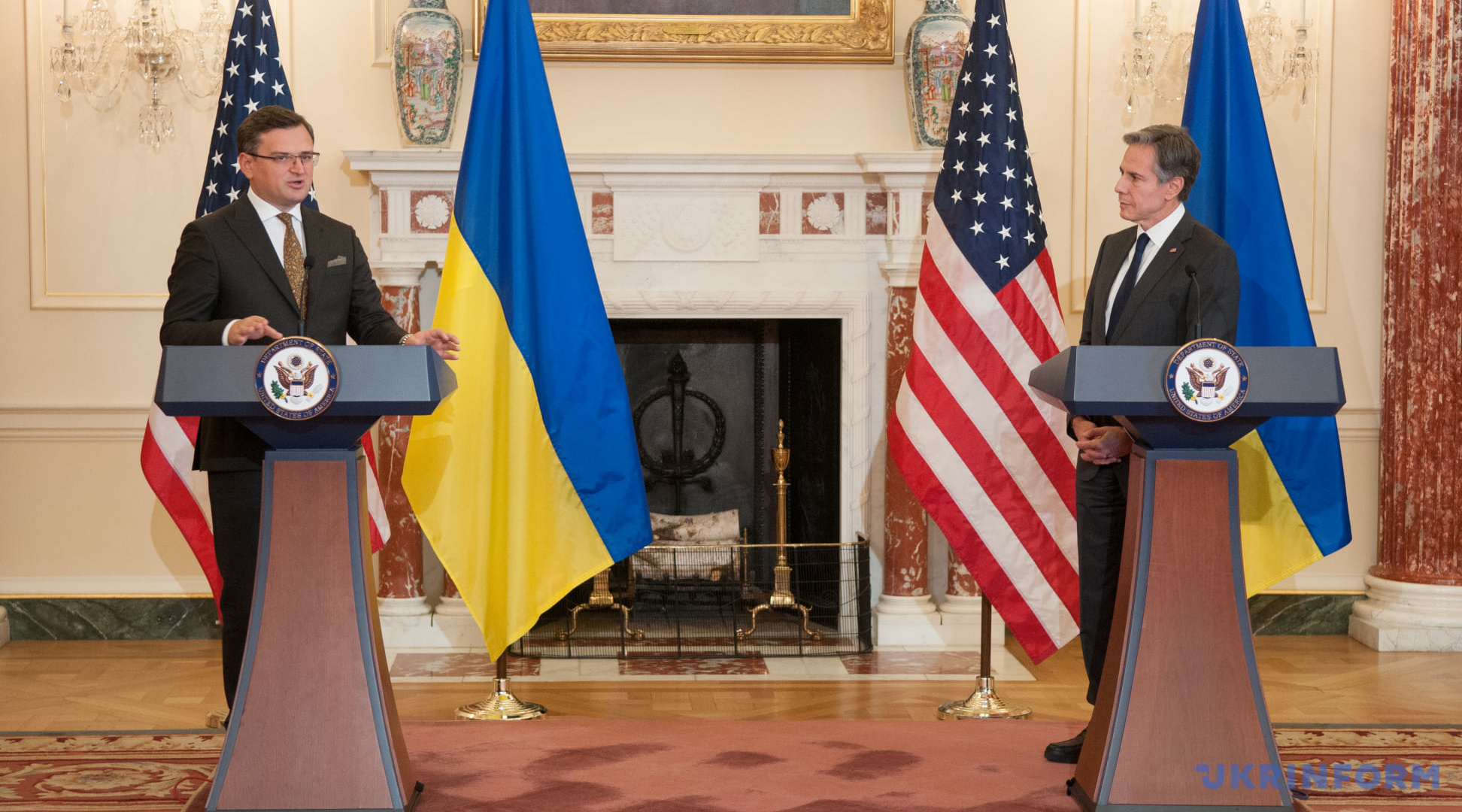 - As regards the energy crisis, the issue of shale gas production in Ukraine is once again on the table in expert circles. Did the parties discuss a possible return to cooperation with the United States in the development of shale gas projects in our country? Besides, mobile mini-nuclear power plants have been developed in the United States. Is the Ukrainian side expressing any interest in them or perhaps exploring the possibility of buying them from the U.S.?
- The answer to both questions is "No, not in these negotiations." There is an ongoing energy dialogue between Ukraine and the United States, where these issues will be discussed.
At the same time, we did hold substantive talks in Washington on how to strengthen Ukraine's energy resilience this winter and what the United States can do about it. We understand that in the coming winter months, energy issues will be inextricably linked to security issues.
NEW CHARTER CONTAINS POSITIVE ASSESSMENT OF UKRAINE'S ACTION ON A NUMBER OF REFORMS
- In a video address to the participants in the Ukraine Reform Conference held this July, U.S. Secretary of State Anthony Blinken named five areas in which the U.S. expects progress from the Ukrainian side. In particular, it was about judicial reform, transparent corporate governance, adoption of a law on the Security Service reform, and prosecution of corrupt high-ranking officials, none of whom have been convicted of corruption since 2014. Did you discuss with Secretary of State Blinken Ukraine's progress in these areas? How does the American side assess it?
- The new version of the Charter contains a positive assessment of Ukraine's action in implementing a number of important reforms, in particular in the field of judiciary, anti-corruption bodies, land market, decentralization, digitalization, and deoligarchization.
The updated Charter enshrines the United States' support for Ukraine's ambitious economic transformation plan aimed at reforming and modernizing key economy sectors and attracting investment.
Ukraine is implementing actual reforms in very difficult conditions. Our strategic partners, including the United States, are well aware of this. We didn't have to prove anything in Washington because our deeds speak for themselves.
For example, recently, an Ethics Council was set up in Ukraine to help clean up our judiciary. The decisive voice there belongs to independent and authoritative international experts. This was a long-awaited development, which was welcomed not only by Ukrainian civil society, but also by our strategic partners, including the United States.
Undoubtedly, American partners support us in every way possible both on the path of internal transformation and in strengthening our security and improving the well-being of Ukrainians.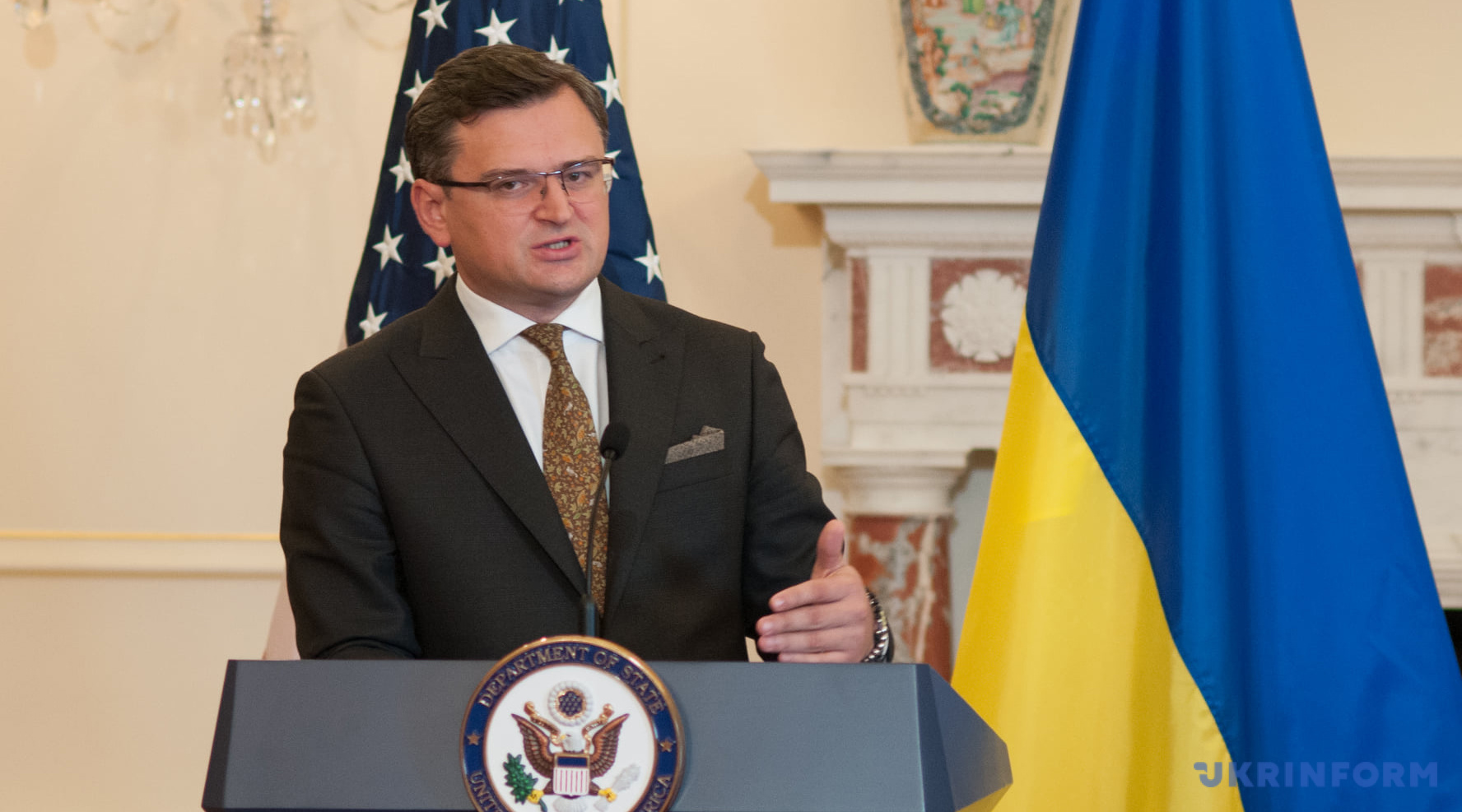 THERE IS NO PROBLEM WITH FRANCE OR ANYONE ELSE TALKING WITH RUSSIA, IT'S IMPORTANT WHAT THEY'RE TALKING ABOUT
- On the eve of the Ukraine-U.S. Strategic Partnership Commission's meeting, you said it would send a clear message to Moscow that Ukraine will not be left alone face to face with the aggressor power. At the same time, the French Foreign Ministry has announced a meeting of French and Russian foreign and defense ministers in Paris on November 12 to discuss European security and the political and military aspects of regional and international crises. What signals do these contacts between France and Russia send, in Ukraine's opinion and that of our American partners?
- There's no problem with France or anyone else talking with Russia. What's important is how they're talking and what they're talking about. We're actively working with our partners to make sure that during contacts with Western powers, France in particular, Russia senses no appeasement over its aggression against Ukraine. I'm convinced that Russia won't sense it in Paris.
- How does the United States assess the migration crisis created by Russia and Belarus, including in the context of potential threats it poses to Ukraine's security?
- Ukraine and the U.S. are united in their negative assessment of the situation: this is hybrid pressure on Europe, which we are ready to counter, together.
Nadiya Yurchenko
Photos by Yaroslav Dovgopol