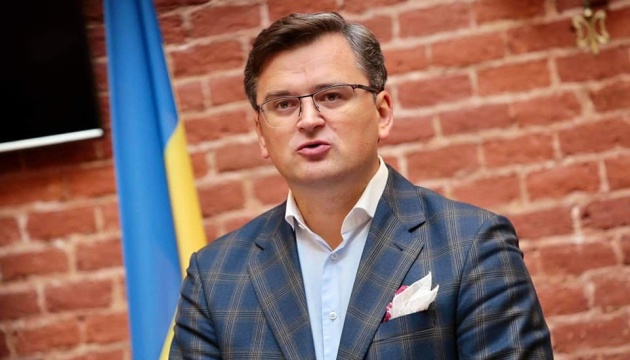 Kuleba: President's 13 meetings in Glasgow to strengthen Ukraine's security, expanding geography of diplomacy
The Ukrainian delegation led by President of Ukraine Volodymyr Zelensky held two busy days of talks at the Conference of the Parties to the UN Framework Convention on Climate Change in Glasgow, which strengthened Ukraine's strategic partnerships and security, expanded its diplomatic geography, and presented the country as an active participant in global efforts to tackle climate change.
The minister for foreign affairs of Ukraine spoke about this during a Q&A on Facebook, Ukrinform reports.
"The two days in Glasgow were really busy. The president of Ukraine held a total of 13 bilateral meetings and talks, which focused on strengthening Ukraine's security, new opportunities for cooperation in energy, trade, and investment," said the minister.
Dmytro Kuleba stressed the importance of the President's meetings with strategic partners, the NATO secretary general, the president of the United States, and the chancellor of Germany.
"At all meetings, the president paid special attention to the security situation in Donbas, which remains tense due to Russia's destructive action. It was about what we can do together with our partners to stop Russia and force it to behave constructively in the negotiations. A separate topic was Ukraine's energy security," Dmytro Kuleba said.
The foreign minister of Ukraine noted the expansion of the geography of diplomatic contacts: "We have expanded our horizons and reached new positions in these regions."
Some contacts took place for the first time in the history of bilateral relations. These include meetings with the presidents of Angola and Liberia. A series of fruitful talks was held with the leaders from Asia, Latin America, and Africa.
Dmytro Kuleba highlighted the president's meeting with the emir of Qatar, where the two leaders spoke, in particular, of the supply of liquefied gas and strengthening Ukraine's energy security.
The top diplomat noted the revival of Ukraine's contacts with the countries of Central Asia, in particular the fruitful meetings of the Ukrainian president with the presidents of Kyrgyzstan and Mongolia: "The president in Glasgow has expanded the geography of diplomatic contacts. They create new opportunities for Ukraine, allow us to promote Ukrainian exports more effectively, pursue serious bilateral projects, and, on principle, strengthen our position worldwide."
The foreign minister said Ukraine had come to the conference not empty-handed, but with a concrete contribution to stopping climate change: "Ukraine looked very dignified, as an active power that's not only asking for help, but also helping those who need it. Our assistance to our partners in fighting the fires in Turkey and Greece this summer clearly testifies to this."
im