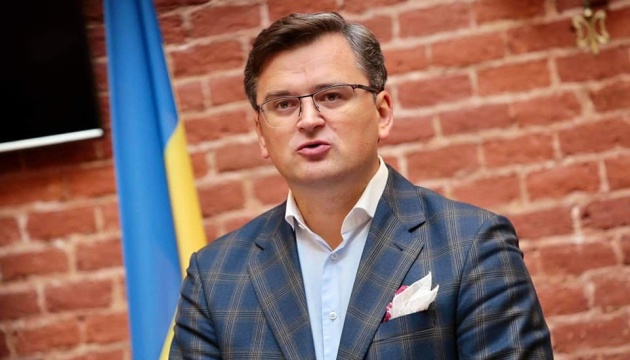 Kuleba on use of Bayraktar drone: Ukraine has not violated anything
Ukrainian Foreign Minister Dmytro Kuleba has said that German partners should, first and foremost, express concern over the use by Russian occupation forces of howitzers proscribed by the Minsk agreements.
Kuleba said this at a joint press conference with Ignacio Cassis, Vice President and Head of the Federal Department of Foreign Affairs of the Swiss Confederation, in Kyiv on Thursday, October 28, according to an Ukrinform correspondent.
"First, Ukraine has not violated anything. Second, we have followed the necessary communication procedures through the JCCC and with the OSCE in order to exercise our right to self-defense. Third, our partners should be concerned, first and foremost, about a howitzer, proscribed by the Minsk agreements, being deployed where it should not have been - much closer to the line of contact than allowed by the Minsk agreements. So, for some reason, when a howitzer is moved to the line of contact, our positions are fired upon and our soldiers are killed, this fact remains without any proper assessment," Kuleba said.
He added that the Ukrainian side is communicating with German colleagues and has no doubt that they remain principled supporters of a peaceful settlement and are trying to help Ukraine stop Russian aggression.
"We are very grateful to them for this. But we are convinced that any assessments should be made taking into account the full context of the situation. Only then they are objective and allow the target audience of these assessments to see the situation correctly," he said.
On October 26, Ukraine used a Bayraktar reconnaissance and strike drone in the area of the Joint Forces Operation for the first time.
German Foreign Office spokesperson Andrea Sasse said that Berlin was "very concerned […] about a report by the Ukrainian Army's General Staff that the Ukrainian Armed Forces had used a drone in response to artillery shelling, the killing of one soldier, and the wounding of another." The diplomat stressed that in Berlin's opinion, this is a violation of the Minsk agreements that allow the use of drones only by the OSCE mission. Berlin also called for "all parties to de-escalate" and be constructive in the talks.
The German government's negative assessment of the use of the Bayraktar drone by the Ukrainian Armed Forces has caused another tension in relations between Kyiv and Berlin.
The Ukrainian ambassador to Germany, Andrij Melnyk, firmly disagreed with Germany's position on the issue in a comment to Bild, saying that Ukraine has "the legitimate right to self-defense if its territory is bombarded day and night with heavy Russian weapons and if civilians and soldiers are killed."
op