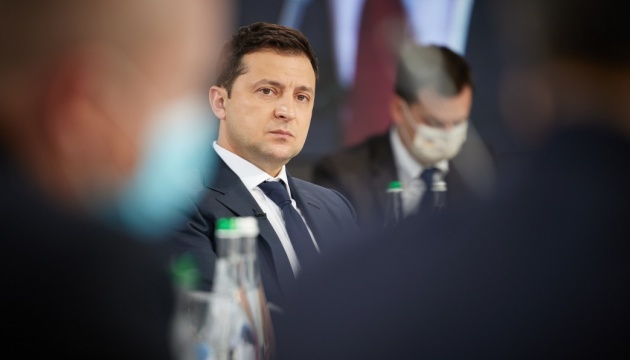 Forests, green energy, and Ukraine: Zelensky pens oped on climate change
President Volodymyr Zelensky is convinced that the further development of mankind depends on the action taken by governments and businesses in the following decade in reducing the pace of climate change.
That's according to Zelensky's op-ed for the Green Deal project on Interfax-Ukraine, Ukrinform reports.
"The further development of mankind depends on what governments and businesses will have time to do in this decade. If we fail to reduce the pace of climate change, after 2030 the social and economic losses will be so significant that we simply can't even imagine it. No one in the world is able to shut themselves off from this threat within their national borders. And no one will be able to beat the climate with political populism," the president wrote.
Zelensky stressed the need to abandon attempts to shift responsibility for climate change to someone else – something he said is often practiced by politicians and top managers.
According to the Ukrainian president, every government and every company must make a fair contribution to stop the destruction of the natural environment.
"These things should be understood. For example, we welcome the Leaders' Declaration on Forest and Land Use, initiated by the United Kingdom. Reforestation and forest protection must be an unconditional priority. Ukraine has already started this work, and in 10 years the forest area in our country will increase by 10 million hectares. Another important step that can be agreed upon right now in Glasgow, and which we support, is a global initiative to reduce methane emissions. This is one of the most dangerous greenhouse gases, and there's sufficient scientific research to confirm this," the head of state said.
The president noted that it is necessary to take into account the actual economic circumstances of each country and look for a way to achieve common goals that will be perceived and supported by public, but the climate can't just wait, so action is needed.
The head of state said the collapse of traditional lifestyles in many regions of the world will provoke even more migration crises than unfolded recently, conflicts over access to fertile land and drinking water may become commonplace on at least several continents, while different rates of green transformation of wealthy and developing economies could lead to a rapid increase in injustice in economic relations between countries, and thus create grounds for populist resistance to climate-responsible policies.
"Therefore, it is not just the moral duty of wealthy countries to help developing ones ensure green modernization of their economies. This is part of the global salvation technology," Zelensky said.
He added that countries are able to stop catastrophic climate change if everyone on whom this depends is diligent in their efforts.
As reported earlier, the COP-26 climate conference under the auspices of the United Nations kicked off in Glasgow on October 31 and will last until November 12.
The Glasgow summit is held a year late due to a coronavirus pandemic. Six years ago in Paris, nearly 200 countries agreed on individual plans to combat global warming. Under the Paris Pact, countries shall review their previous commitments to reduce carbon emissions every five years and then announce plans for even greater and faster reductions.
Photo: OP
im