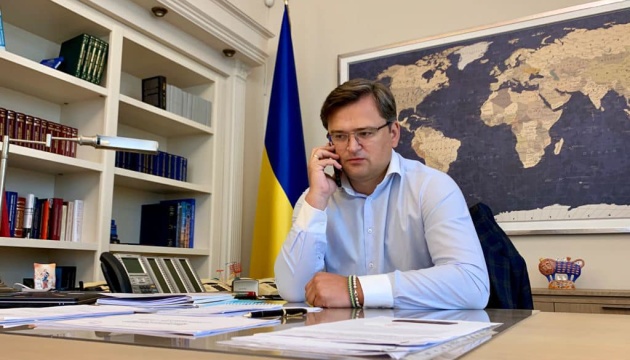 Kuleba to visit Poland on Oct 4-5
Ukrainian Foreign Minister Dmytro Kuleba will make a working visit to Poland on October 4-5 to take part in a meeting of the Lublin Triangle and hold talks with Polish Foreign Minister Zbigniew Rau, the Ukrainian Foreign Ministry has reported.
In Warsaw, Kuleba will take part in a Lublin Triangle meeting with Rau and Lithuanian Deputy Foreign Minister Mantas Adomenas, where the parties will discuss security in the Baltic-Black Sea region, countering Nord Stream 2, and Ukraine's integration into the EU and NATO.
In addition, Kuleba will hold separate talks with Rau, with their key topics being the strengthening of the political dialogue between Ukraine and Poland, growth in trade and investment, strengthening energy cooperation, and coordinating positions in the context of Poland's 2022 OSCE chairmanship.
Kuleba will take part in the Warsaw Security Forum and speak at a panel discussion on "From the Baltic to the Black Sea: Unlocking the Strategic Potential of the Region." He will also hold a series of bilateral meetings on the sidelines of the forum.
Kuleba is also to make a trip to Lublin to meet with the Ukrainian community in Poland, visit the memorial to the soldiers of the Ukrainian People's Republic, and honor the victims of the Nazi concentration camp Majdanek.
The Lublin Triangle is a trilateral platform for political, economic, cultural and social cooperation between Ukraine, Lithuania and Poland, founded on July 28, 2020. The purpose of the platform is to support Ukraine's integration into the European Union.
op