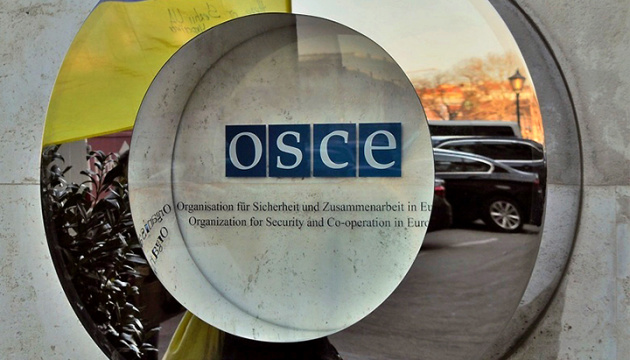 Ukraine at OSCE: Voting in occupied territories delegitimizes Russian State Duma election
The involvement of Ukrainian citizens living in the temporarily occupied Crimea and Donbas in the State Duma elections is a violation of Russia's OSCE commitments and calls into question the legitimacy of these elections.
That's according to Ukraine's Permanent Representative to international organizations in Vienna, Yevhenii Tsymbaliuk, who spoke at a meeting of the OSCE Permanent Council on Thursday, an Ukrinform correspondent reports.
Moscow has long used electoral procedures to interfere in the internal affairs of sovereign states and undermine their territorial integrity, Tsymbaliuk said, stressing a "long list" of violations, starting with the sham referendum in Crimea in 2014 and ending with a 2020 vote to amend the constitution.
The latest election to the State Duma was no exception, Tsymbaliuk told the meeting.
He stressed that the involvement in the elections in Russia of residents of the temporarily occupied territories of Ukraine, as well as Georgia and Moldova, "is a gross violation of basic norms of international law and Russia's obligations under the OSCE, including the Helsinki Final Act.
This also applies to the fact, he added, of holding so-called "elections" in the territories under Russian unlawful occupation. This significantly distorts the election results and calls into question the legitimacy of the elections to the State Duma of the Russian Federation in general, said the head of the Ukrainian Mission to the OSCE.
He stressed that forcing Ukrainian citizens who were illegally handed Russian passports to vote in the Russian State Duma elections is yet another aggressive act by Russia against the state sovereignty and territorial integrity of Ukraine.
The results of this election are legally void, Stymbaliuk said, calling on member states to refrain from contact with illegally elected representatives of the occupying power, to prevent their inclusion in Russian delegations to parliamentary assemblies, and to hold those responsible for setting up these elections accountable.
Also, Tsymbaliuk said holding such illegal elections is a step backwards in the implementation of the Minsk agreements by Russia as a "party to the conflict."
As Ukrinform reported earlier, on September 17-18 Russia held elections to the State Duma. According to numerous testimonies, the voting process and the vote count saw large-scale falsifications.
The European Union, the United States, and other powers have condemned the mass violations. They also stated partial non-recognition of the election results, in particular due to the participation in the voting of the population of the Russian-occupied Crimea and parts of Donetsk and Luhansk regions of Ukraine.
im