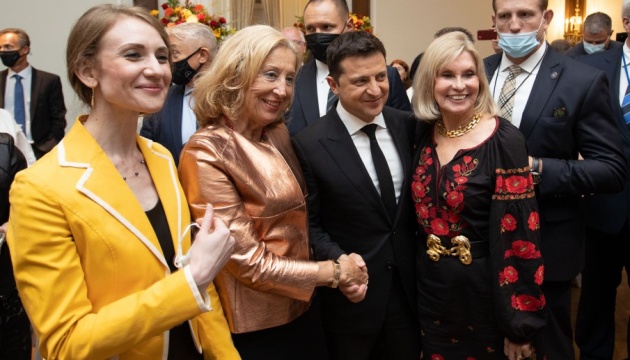 Ukraine to implement idea of ​​dual citizenship, Zelensky assures diaspora in U.S.
Ukrainian President Volodymyr Zelensky has told the Americans of Ukrainian descent said he would work toward implementing the idea of ​​dual citizenship.
That's according to Ukrinform's own correspondent in New York reporting from Zelensky's meeting with representatives of Ukrainian organizations and churches in the United States, which took place at the Ukrainian Institute of America.
"We must implement the idea of ​​dual citizenship, especially for Ukrainians in America," Zelensky said, noting, however, that the issue with the law on dual citizenship "isn't an easy one."
"This can't apply to everyone because some Ukrainians live in countries that are not our friends, to put it mildly," Zelensky explained, hinting at Russia.
According to Zelensky, it is necessary to "restore history, justice, and respect for the centuries-old, multinational and multicolored state." And the restoration of respect, he said, is measured by concrete things. Among such things, the president named massive road construction efforts.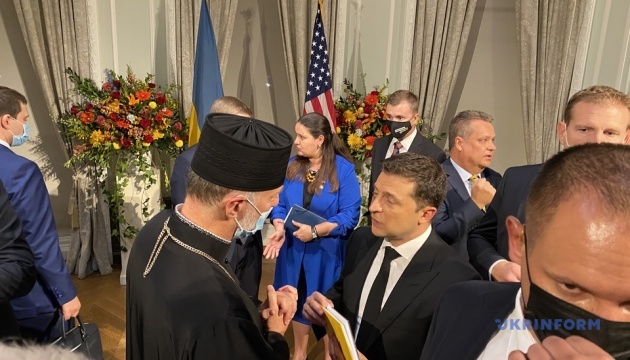 "Our roads are better now than they are in New York," he said, sparking applause and adding that more work needs to be done in this regard in "respect for the history of our country."
The head of state also stressed his priority in the office, which is to bring peace back to Ukraine. This will be done through diplomacy, negotiations "with a very difficult country and difficult people," and we need pressure from the international community, "anyone who can do anything to restoring our country's connection with all our people and territories."
Zelensky called on Ukrainians abroad to do everything possible to help Ukraine.
In turn, President of the Ukrainian Congress Committee of America, Andriy Futey, noted that the community is making every effort to influence U.S. government policy towards Ukraine and thus to promote the implementation of Ukraine's strategic course toward membership in NATO and the EU, restoration of territorial integrity, as well as the termination of the Nord Stream 2 project.
As Ukrinform reported, Volodymyr Zelensky kicked off his working visit to the United States on September 20.
The President arrived in New York to attend the 76th session of the UN General Assembly. The Ukrainian leader is set to speak at the session's general debate on September 22.
im