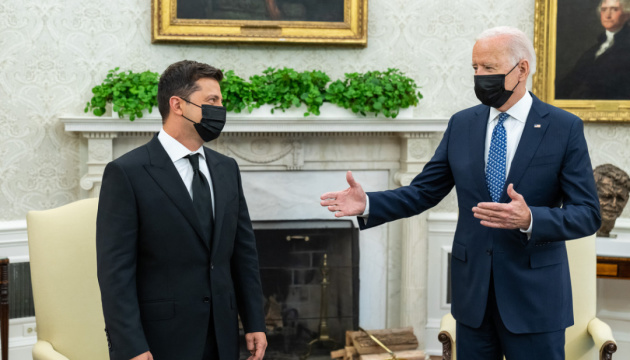 Zelensky tells of Biden's stance on Ukraine's NATO membership issue
President Volodymyr Zelensky said that during a Washington meeting with his American counterpart, Joe Biden, the latter said he believes Ukraine should be in NATO, while making this happen depends on other leaders as well.
The comment came during Zelensky's interview with Farid Zakaria on CNN, Ukrinform reports.
Zelensky "very directly" asked Biden about Ukraine's NATO accession prospects. The Ukrainian president said Biden's response to this question and the issue of the Alliance in general took 20 to 30 minutes.
"He said, 'I think that you have to be there, but it's not only my decision,'" said Zelensky, noting that he is not citing Biden verbatim.
"I think I heard this rhetoric from him before my meeting," the president of Ukraine said.
According to him, the U.S. position is influenced by the advice of leaders of some major European powers.
"I said to him: I know that you're right, Mr. President," Zelensky told the U.S. president, adding that his decision will make Ukraine's path to NATO "shorter."
A joint statement following the Zelensky-Biden summit said the United States supports Ukraine's right to choose its own foreign policy course free from outside interference, including Ukraine's aspirations to join NATO.
im