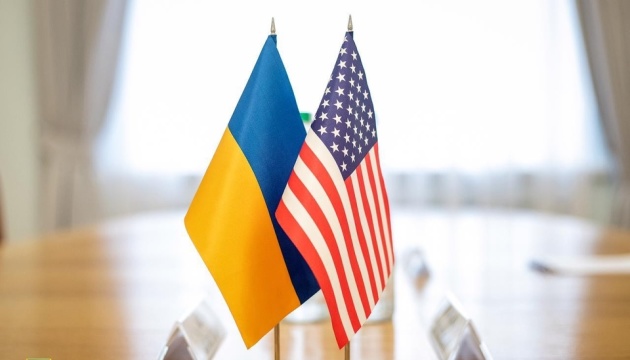 Ukraine, U.S. discuss preparations for Strategic Partnership Commission
President's Office chief Andriy Yermak on Friday had a phone call with U.S. Deputy Assistant Secretary of State in the Bureau of European and Eurasian Affairs, Robin Dunnigan.
That's according to the press service of the President's Office, Ukrinform reports.
"Yermak greeted Dunnigan with the new appointment and wished success in her endeavor. The interlocutors exchanged views on the results of the visit of President of Ukraine Volodymyr Zelensky to the United States and next steps to implement the agreements reached and further strengthen the strategic partnership between Ukraine and the United States. They also discussed preparations for the meeting of the renewed Strategic Partnership Commission," the report says.
The parties also discussed further cooperation in the energy sector, while Yermak stressed Russia's use of the Nord Stream 2 gas pipeline as a weapon.
During the call, the parties touched upon the issues of corporate governance reform in Ukraine. Yermak briefed the U.S. official of the government's intention to announce in the coming days a competition for the posts of four independent members of the Supervisory Board at NJSC Naftogaz of Ukraine.
Also, Yermak shared Ukraine's views on the current state of negotiations toward a peaceful settlement in eastern Ukraine and discussed with Dunnigan the security situation along Ukraine's borders.
It is noted that Dunnigan thanked Ukraine for the effective cooperation on the evacuation from Afghanistan, including of at-risk individuals. Yermak assured the interlocutor of the country's readiness to further coordinate efforts and cooperate on the Afghanistan issue.
As reported earlier, U.S. President Joe Biden's administration had tapped Robin Dunnigan, a career diplomat with a background in energy, to oversee policy for Central and Eastern Europe at the Department of State.
Dunnigan, who served as deputy assistant secretary for energy diplomacy in the State Department's Bureau of Energy Resources from 2014 to 2017, will help craft policy toward Ukraine, Belarus, and Moldova, as well as Poland, Hungary, and the Czech Republic.
She had been serving at the U.S. Embassy in Vienna for the past three years, first as deputy chief of mission and most recently as charge d'affaires to Austria.
Dunnigan was an early critic of Russian plans to lay the Nord Stream 2 gas pipeline.
im