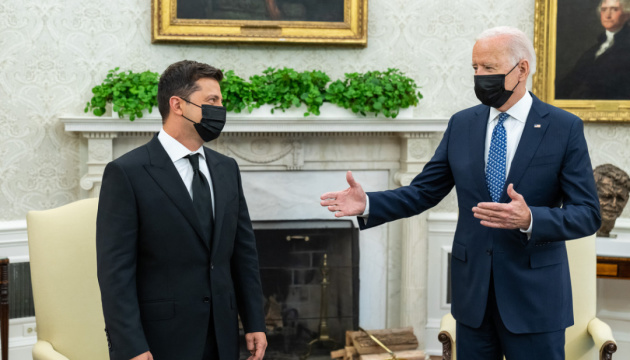 President's Office on Zelensky's U.S. visit: We managed to accomplish more than planned
The results of the United States visit of the Ukrainian delegation headed by President Volodymyr Zelensky have exceeded expectations.
That's according to Oleksiy Arestovych, an adviser to the head of the President's Office and speaker for the Ukrainian delegation to the Trilateral Contact Group for Donbas settlement, who spoke on the air of the Dom TV channel, Ukrinform reports.
"We managed to realize more than we, ourselves, planned. That is, we have achieved the maximum. This was a normal working visit, whose results have exceeded our own expectations," Arestovych said.
The adviser went on to highlight the most important points of the trip.
"First thing is that for the first time over many years, Ukraine didn't come as a petitioner. That is, we didn't say "save us" or "help us," but called out a problem, a sore spot, and named options for joint action to address the problem or move forward in a specific political direction. Some expected it would be a client coming to his patron, as people often say. In fact, it's a partner coming to a partner. This is one of the most significant achievements," said the speaker for the Ukrainian delegation to the TCG.
Secondly, the final Joint Statement on the Strategic Partnership between Ukraine and the United States makes no mention of Minsk agreements on Donbas settlement.
"You might have noticed that the Minsk agreements weren't brought up either during Merkel's visit to Washington, or during Zelensky's trip. This means a very important thing. It's not that we are abandoning Minsk Agreements. This means that the Russian Federation and the Kremlin leadership are failing in push through their version of Minsk agreements, in which they have long tried to persuade the West – collectively and individually ... This sends a very strong signal to Moscow that their policy of imposing a one-sided perspective of Minsk agreements has failed," Arestovych stressed.
The eleven points of the Joint Statement on the Strategic Partnership between Ukraine and the United States are devoted, among other things, to developing military cooperation, which is also related to the situation in the east of the country.
"This is about sharply enhancing cooperation between our intelligence communities: information exchange, interaction, and joint operations. For example, we will be receiving intelligence in much larger amounts than before, including in real time. This significantly increases our ability to ensure early warning and work toward specific goals, if such need arises," the adviser said.
The agreement contains concrete steps both countries are expected to take, serving as a sort of a roadmap for partnership in various areas, "from energy to defense, industrial development, strengthening contacts, increasing trade, and so on."
"A road map is drawn, which shows that we're moving for a common purpose, which is about democracy opposing authoritarian regimes," Arestovych noted.
In addition, during the visit, Ukraine's defense giant Ukroboronprom inked contracts worth $2.5 billion.
"There will be joint production of weapons and military hardware, which has never been the case. There will be an increase in military aid, lethal or non-lethal arms supplies, as well as cybersecurity," the official explained.
He also reminded that a special secure line between will be set up for the two presidents to be able to remain in constant contact for consultations.
"Besides, the Commission (for the Ukraine-U.S. Strategic Partnership) is being revived. Recall, there was once a Gore-Kuchma Commission, where permanent representatives addressed plenty of issues concerning seven to nine areas, and it worked very effectively. It dealt with package investment in the Ukrainian economy, arms and military hardware development, energy security issues, construction of new nuclear units, and so on. Everything will be decided within this Commission, including part of the plan, which the president presented as Ukraine's transformation," Arestovych summed up.
As reported earlier, from August 31 to September 2, President of Ukraine Volodymyr Zelensky was on a working visit to the United States lasted. On September 1, he met with U.S. President Joe Biden. As a result of the visit, the parties agreed on $60 million assistance to the Ukraine Army for the purchase of U.S. military equipment; $45 million in humanitarian aid for Donetsk and Luhansk regions; $12.8 million on combatting COVID-19; and $463 million for the protection of democracy, human rights, and reform development.
Photo: White House
im