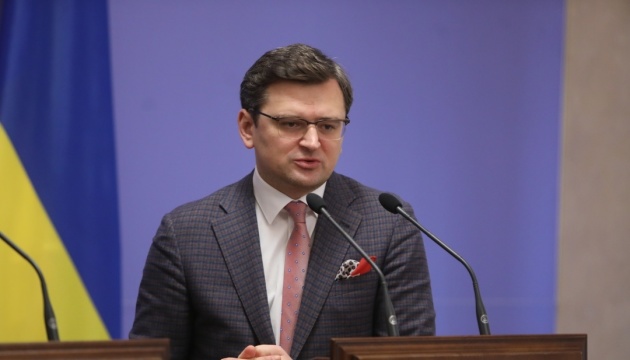 Kuleba slams Russia for going after innocent people over Crimea Platform disruption failure
Foreign Minister Dmytro Kuleba has called on Russia to stop taking revenge on innocent people for the failure of Moscow's campaign to disrupt the Crimea Platform summit.
The statement came during Kuleba's online briefing on Thursday, September 9, an Ukrinform correspondent reports.
The Minister reminded that on September 3-4, after illegal searches of Crimean Tatars' homes, five men – Eldar Adamanov, Nariman Dzhelyalov, Aziz Akhtemov, Asan Akhtemov, and Shevket Useinov – were illegally detained.
"There can be no other interpretations than to acknowledge that these raids and arrests are part of Russia's revenge for Ukraine's successful holding of the Crimea Platform summit. After their campaign to disrupt the summit failed, Russia resorted to what they do best, which is repression, and over their own mistakes and miscalculations, they are forcing innocent Crimean Tatars to pay the price, throwing them behind bars and bringing grief to their families," said Kuleba.
He stressed that all the accusations against the held men were absurd and politically motivated, stressing that Ukraine would work with partners to ensure that all political prisoners held by Russia be released.
In this context, Kuleba recalled that during his visit to Washington, he handed to the U.S. State Department a full list of Ukrainian prisoners held in the occupied Donbas, occupied Crimea, and Russia, while during a summit of presidents of Ukraine and the U.S., Volodymyr Zelensky also raised the issue.
"We will use every opportunity to have our people released. I have one appeal to the Russians: 'Stop showing your pettiness. If you can't stop the government of Ukraine from fighting for Crimea and liberating the peninsula, you shouldn't attack innocent people. If you are so cool, respond to us at the level of interstate relations, not through persecuting innocent people," the head of Ukrainian diplomacy emphasized.
In response to the question regarding the Crimea arrests, the minister noted that the Ukrainian side has two tasks to fulfill: the first is to ensure that these people are not tortured and treated with dignity while behind bars, and the second the task is to have them released.
"The experience of the past seven years has proven that public awareness and rallying international community's attention to the fates of these illegally detained citizens is very important for fulfilling the first task. And this is exactly what we did first of all – you have seen the statements of Ukraine and many other states on the issue. Liberation is a different task – here we need to work through the so-called quiet diplomacy, behind the scenes, with different countries that can help us in this. And this is exactly what we're doing now," Kuleba summed up.
Adamanov and Useinov were sentenced to 14 and 15 days of administrative arrest for "disobeying the lawful demands of police officers" (Article 19.3 of the Administrative Code).
Background
On September 3-4, illegal searches were carried out in Crimean Tatars' homes in the occupied Crimea, followed by detentions of Crimean Tatars – public figures and ordinary citizens. Among those detained is Nariman Dzhelyalov, First Deputy Chairman of the Crimean Tatar People's Majlis, who on August 23 took part in the inaugural summit of the Crimea Platform, Ukraine's initiative toward deoccupation of Crimea.
The FSB also detained four more activists – Eldar Adamanov, Aziz and Asan Akhtemovs, and Shevket Useinov.
Along with Crimean Tatar cousins, Aziz and Asan Akhtemovs, Nariman Dzhelyalov is being accused of complicity in inflicting physical damage to a gas pipe that fed one of Russia's military units in the occupied peninsula.
Another two Crimean Tatars, Eldar Odamanov and Shevket Useinov were arrested for 14 and 15 days respectively for "resisting police."
im