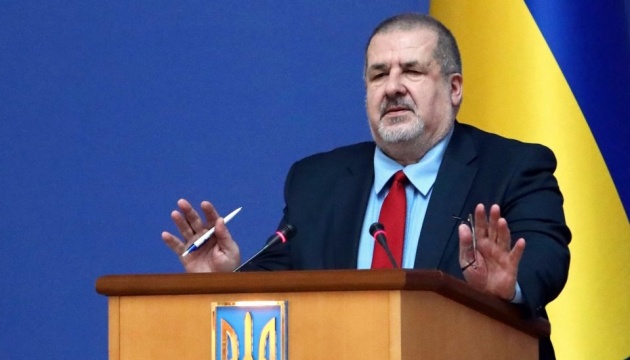 Chubarov calls on Western leaders to snub Putin
Chairman of the Crimean Tatars' Mejlis, Refat Chubarov, has called on Western powers to refrain from pursuing dialog or meeting with Russian President Vladimir Putin.
The statement came as Chubarov, whose deputy Nariman Dzhelyalov was earlier arrested in the occupied Crimea following the Crimea Platform initiative, spoke with Dom TV, Ukrinform reports.
Chubarov reminded that on Wednesday, the Mejlis had sent an appeal to the leaders of states participating in the Crimea Platform initiative, calling for urgent interstate consultations on ongoing repressions in the occupied Crimea.
He noted that the Mejlis was grateful to the European Union, the U.S., Britain, Turkey, and other countries, which throughout the eight years of occupation of the peninsula "have been expressing serious concern about the situation in the occupied Crimea and the fate of our compatriots."
"But I'd like to say that our people are held in basements 24/7, handcuffed, with bags over their heads. They are deprived of water, tortured, harassed, and forced to confess to crimes they never committed. It's our people who are forcibly abducted from the streets across Crimea, and we've not been able to locate them for years. This means that a consolidated position within the Crimea Platform is critical," the head of the Mejlis stressed.
In this regard, he called on the international community to intensify joint action against Russia.
"I'll cite at least one example. A few days ago, a spokesman for the president of the aggressor power, (Dmitriy – ed.) Peskov, said a meeting between Ukrainian President Volodymyr Zelensky and Russian President Vladimir Putin would be impossible until Ukraine removed the issue of Crimea (from the international agenda – ed.) This means there'll be no meeting," Chubarov said.
As a response, he suggested that other countries not engage in dialogue with the Russian leader.
"Here, in this situation, as repressions against the indigenous Crimean Tatar people are intensifying, when the lives of our people are in danger... Perhaps the leaders of Western powers should declare that all the repressions that are currently being observed in the occupied Crimea do not allow them – leaders of western powers – to have meetings and continue the dialog, in general, with Putin and his entourage. Why not put forward demands to Russia that would be symmetrical to those Russia issues to Ukraine and the free Western world?" he said.
As Ukrinform reported earlier, on September 3-4, five Crimean Tatar men were detained in the occupied Crimea following raids: Eldar Adamanov, Nariman Dzhelalov, Aziz Akhtemov, Asan Akhtemov, and Shevket Useinov.
The Ministry of Foreign Affairs of Ukraine has strongly protested the systematic unlawful searches and detentions in the temporarily occupied peninsula.
President Volodymyr Zelensky considers the latest persecution spree Russia's reaction to the launch of the Crimea Platform and demands that all detainees be released.
im