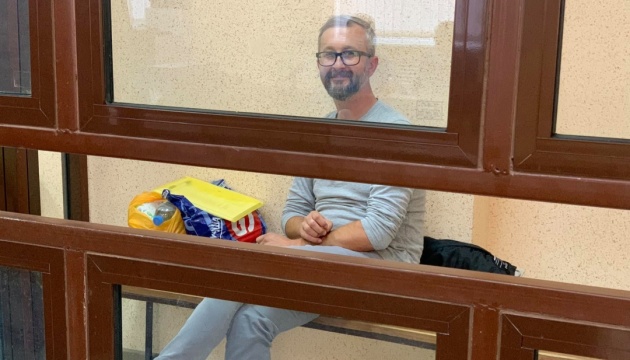 Crimea "court" takes Mejlis deputy chair into custody on trumped-up sabotage charges
A "court" in occupied Crimea's Simferopol has ruled to remand Nariman Dzhelyalov, Deputy Chairman of Crimean Tatars' Mejlis, in custody until November 4.
That's according to Mejlis Chairman Refat Chubarov, Ukrinform reports.
"The Russian occupation court in Simferopol issued a ruling to take Nariman Dzhelyalov into custody until November 4, 2021, pending inquiry," Chubarov wrote on Facebook.
As Ukrinform reported earlier, on September 4, FSB operatives snatched Nariman Dzhelyalov from his home amid a blitz raid in the early hours of Saturday, September 4.
Until late evening, he was held with a bag over his head and subjected to severe psychological pressure, while his lawyer was unable to gain access.
Russian occupation authorities have charged Dzhelyalov with sabotage, the article that entails imprisonment of up to 15 years.
Ukrainian officials believe the move is part of Russia's brutal response to the Crimea Platform inaugural summit Kyiv hosted recently, which put the issue of the attempted annexation of Crimea back on top of the international agenda.
Along with Crimean Tatar cousins, Aziz and Asan Akhtemovs, who were apprehended on the same day, as reported by Ukrainian Ombudsperson Liudmyla Denisova, Nariman Dzhelyalov is being accused of complicity in inflicting physical damage to a gas pipe that fed one of Russia's military units in the occupied peninsula.
Another two Crimean Tatars, Eldar Odamanov and Shevket Useinov, detained on September 4, were arrested for 14 and 15 days respectively for "resisting police."
im