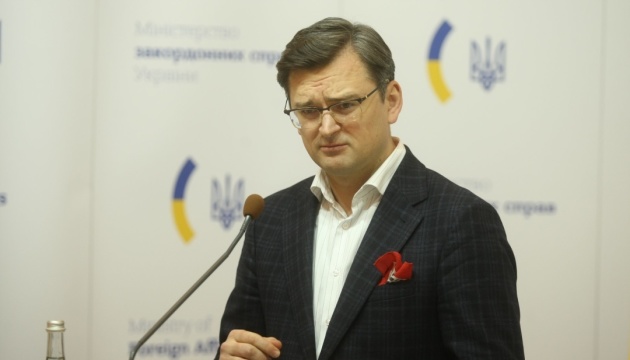 Ukraine to become America's major ally within NATO, not beyond it – foreign minister
Ukraine will be a major U.S. ally in NATO, not outside the Alliance.
This was stated by Foreign Minister Dmytro Kuleba who spoke with Ukraine24 TV, Ukrinform reports.
"Ukraine will become a major U.S. ally within NATO, not beyond NATO. To this end, we are implementing a wholesome foreign policy strategy, creating a system of alliances for the security of Ukraine, and deepening cooperation with strategic partners," the foreign minister said.
He stressed that during a visit to Washington, President Volodymyr Zelensky successfully enlisted U.S. support in strengthening Ukraine's defense capabilities.
"There we signed a new agreement with the United States in the field of security and defense, which in a number of respects are more ambitious than the status of a Major non-NATO Ally," the top diplomat stressed.
As Ukrinform reported earlier, Verkhovna Rada Chairman Dmytro Razumkov is convening on September 8 an extraordinary parliament sitting to consider a draft resolution to address U.S. lawmakers on granting Ukraine the MNNA status.
The draft was authored by MP Oleksiy Honcharenko with the European Solidarity faction.
Ukraine's Ambassador to the United States Oksana Markarova explained that such status is provided to countries that have no plans or capacities to join the Alliance.
On Wednesday, the Rada profile committee did not support the relevant draft resolution.
im