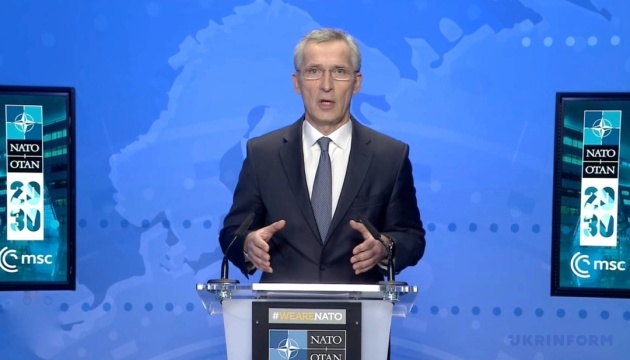 Russia building up nuclear potential – Stoltenberg
NATO intends to retain unity to preserve strategic stability and continue the policy of arms control, disarmament, and non-proliferation, to tackle the rising challenges in a more competitive world, which are coming including from Russia's aggressive behavior.
That's according to NATO Secretary General Jens Stoltenberg who addressed via video link the annual NATO conference on non-proliferation, held in Copenhagen on September 6.
The full text of Jens Stoltenberg's address has been published on the NATO website.
"[W]e must be clear-eyed about the challenges before us. Russia continues to ignore and bend the rules. It undermines key treaties. Russia is also modernizing its dual-capable and nuclear capabilities, including intercontinental ballistic missiles. Its hypersonic glide vehicle is now operational. And it has tested a new air-launched ballistic missile, and a nuclear-powered cruise missile," Stoltenberg said.
Among other challenges in the non-proliferation field, the NATO chief called the rapid expansion of China's nuclear arsenal, with more warheads and more sophisticated delivery systems.
Moreover, Stoltenberg added, China is building a large number of missile silos, "which can significantly increase its nuclear capability."
He also noted other international actors fielding nuclear weapons and advanced missile systems. As an example, he cited North Korea and Iran, "who are blatantly ignoring or breaking the global rules."
"All of this is happening without any limitation or constraint. And with a complete lack of transparency <…> So the world is rapidly becoming more unpredictable, more competitive, and more dangerous. NATO is adapting to this changing world," said Stoltenberg.
As Ukrinform reported earlier, at the Brussels Summit in 2021, the Allies agreed to further strengthen the system of nuclear non-proliferation control. They praised the extension of the START nuclear arms reduction treaty between the U.S. and Russia, which should be viewed not as a completion but as a beginning of new efforts to strengthen international non-proliferation.
START was extended on February 3, 2021, until February 5, 2026.
im