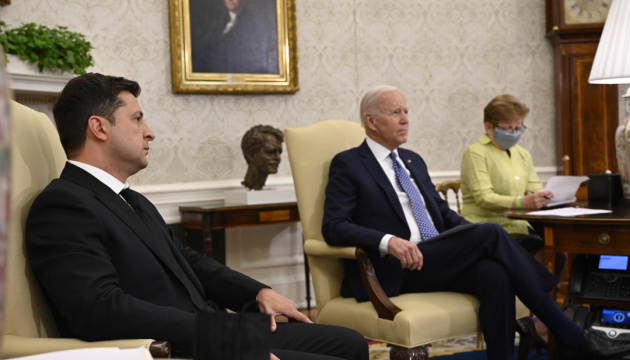 Zelensky comments on atmosphere of Biden summit
President Volodymyr Zelensky says the summit with U.S. leader Joe Biden took place in a productive atmosphere, although it wasn't always "sunny", and showed that both parties are interested in the dialogue and its outcome.
The comment came during Zelensky's press conference in Washington following the two-hour face-to-face with Joe Biden, an Ukrinform correspondent reports.
"The fact that instead of one hour, the meeting lasted two hours shows that the parties are interested in this dialogue. I believe that in general, the summit saw a normal, productive, albeit not always sunny, atmosphere – it was a normal conversation of the two men," Zelensky noted.
Asked on what issues "it got cloudy," the president said: "It's not getting cloudy, there's simply no time to be distracted by the sun as we need to act and move forward."
The head of state also shared that he had heard from his U.S. counterpart "only pleasant words" and an understanding of how complex the situation remains.
Zelenksy says Biden noted the "big steps" Ukraine made in reforms, especially on land and judiciary. The Ukrainian president added that "everyone sees infrastructural changes in Ukraine."
"There were absolutely no negative aspects from the United States toward Ukraine, toward me personally, toward my team, or toward the President's Office. Zero, not a single aspect, not even a single word," the president stressed.
As reported earlier, President of Ukraine Volodymyr Zelensky is on a working visit to the United States.
On Wednesday, Volodymyr Zelensky and Joe Biden held a summit, which lasted for nearly two hours.
im