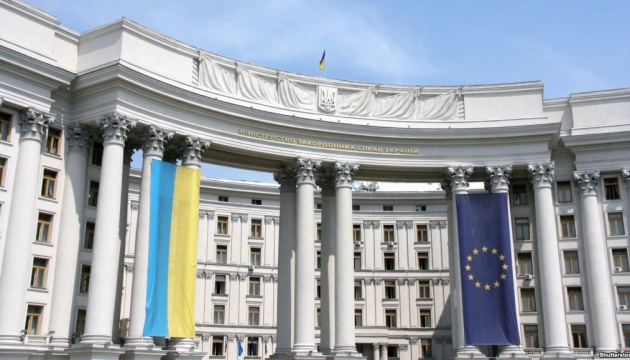 MFA Ukraine summons Belarus envoy over Lukashenko's remarks
The Ministry of Foreign Affairs of Ukraine on Tuesday summoned Chargé d'Affaires of the Belarus Embassy in Ukraine, Kirill Kamyshev, in the wake of the latest statements by Alexander Lukashenko voiced at his annual press conference August 9.
That's according to the MFA press service, Ukrinform reports.
The ministry has summoned the CDA to express strong protest against a number of "unacceptable" statements Lukashenko had made during the annual press conference.
The diplomat was warned that Lukashenko's readiness to recognize Russia's sovereignty over the temporarily occupied Ukrainian peninsula of Crimea was tantamount to complicity in the Kremlin's crime against Ukraine's territorial integrity and sovereignty, which entails all related international legal implications.
"By voicing such statements, he is violating international obligations undertaken by Belarus to comply with norms and principles of international law," MFA Ukraine said.
The Belarusian side was also invited to explain Lukashenko's words suggesting that the Belarusian side did allow self-styled "prosecutors" from the temporarily occupied Luhansk to interrogate opposition activist Roman Protasevich detained in Belarus after a Ryanair plane carrying him on board had been force-landed in Minsk.
If confirmed, the act would contradict the official response from the foreign ministry of Belarus, previously received by the Ukrainian side, which categorically denied the fact.
MFA Ukraine considers Lukashenko's rhetoric on "arms smuggling" and training of "militants" for operations on the territory of Belarus "irresponsible propaganda" that is "far from reality."
"Obviously, this is the product of Ukraine's image artificially created by Kremlin propaganda pundits from Lukashenko's entourage as" hostile" to Belarus and the Belarusian people, which is completely untrue. By spinning fake news on external threats to the Belarus statehood coming from Ukraine and other Western powers, Alexander Lukashenko is trying to justify his repressive methods and restrictions on rights and freedoms of Belarusian citizens," the ministry emphasizes.
Ukraine also drew attention to Lukashenko's threats to "bring Ukraine to its knees," using Russian leader Vladimir Putin as backup. The Belarusian diplomat was told that the remark was a sign of his country's weakness rather than a show of strength. Given that Putin failed in bringing Ukraine to its knees, Lukashenko's choice to count on him is a losing bet, the diplomacy said.
As reported earlier, on August 9, Alexander Lukashenko during a press conference answered questions about the recognition of the occupied Crimea as Russian territory, spoke of allowing representatives of the unrecognized "LPR" statelet to question held blogger Roman Protasevich, and accused the Ukrainian president of "training militants" for their further deployment to Belarus.
im